Christmas Dinner Ideas: From Classics To Non-Traditional Recipes
All we want for Christmas is a Christmas pudding!
Christmas is one of the most celebrated and beloved holidays in the world. People associate it with coziness, a decorated Christmas tree, festive garlands, and a delicious dinner with the family. Each country and family have their traditions of preparing and celebrating this holiday. 
Eat tasty food and lose weight with Unimeal app!
Take a Quiz – Get personal meal plan – Achieve your weight goals!
Start Quiz
Someone already a month before Christmas Eve is preparing a dessert, someone starts choosing the perfect fish and turkey, and someone is planning a trip to a fast-food restaurant. 
Despite all the differences in its conduct, Christmas gives people positive emotions and believes that the coming year will bring only joy and happiness. Delicious food and a unique atmosphere allow you to tune in a positive mood.
Christmas dishes from all around the world
The most beloved Christian holiday in the world is associated with rebirth, peace, and happiness. On this bright day, it's customary to set the table and meet guests. And each country has not only its national cuisine but also its festive culinary traditions. 
But they don't need to prepare those dishes that seem the most delicious and refined for the holidays. People often choose meals with a long history, which have stood the test of time and become the favorites for more than one generation.
The British greet Christmas with a baked turkey served with cranberry sauce. Fried potatoes, Brussels sprouts, and other vegetables are side dishes. Often, you can find a pork leg with cherries and cloves on the English table. And for dessert, the British feast on pudding poured rum, which they effectively set on fire while serving. For drinks, they choose traditional ale.
The Germans cook goose baked with apples, prunes and cabbage, salmon, pork with sauerkraut, and homemade salted pastries. They try to pick products on this day that symbolize the birth of life - eggs, and sprouts.
The French traditionally cook a Christmas turkey by baking it according to a special recipe with alcohol and cream. They can also have chestnuts, pates, fish, shellfish, and assorted cheeses on the Christmas table. The French adore serving a Christmas butter log with wine or champagne for dessert.
In Japan, all food on the Christmas table has meaning. The Japanese prefer buckwheat noodles, seafood set consisting of several types of fish, caviar, shrimp, lobster, oysters, and seaweed. They eat this splendor with Ozoni soup with rice cakes. As for the drinks, they pick rice, vodka, and green tea.
In Argentina, people fry peacock meat, turkey, beef, or pork on Christmas night, accompanied by pies with all kinds of fillings and sweet puddings.
Australians usually celebrate Christmas with shrimp, chicken, pig, lamb, and beef. They put whipped cream with fruit and meringues on the table for dessert.
Americans traditionally bake a Christmas turkey with sour cranberry sauce and stuff the meat with bread, cheese, beans, mushrooms, garlic, prunes, cabbage, and apples.
11 National Christmas recipes you can try
Depending on the country and region, there are infinitely many traditions of setting the table for Christmas, so long listings do not make sense. To better understand the traditional Christmas cuisine of different continents, let's pick a main dish for each country and find out why people love it so much.
Christmas pudding (UK)
Christmas pudding or plum pudding is a staple dessert at a UK gala dinner. Despite the name, it doesn't consist of plums. The pudding contains raisins, bread crumbs, sugar, butter, spices (cloves, cinnamon, and nutmeg). Before serving, the cook poured it with brandy, rum, or other strong alcoholic beverage and set it on fire. 
Another feature of the plum pudding is that you can cook it several weeks before serving, giving it time to "ripen."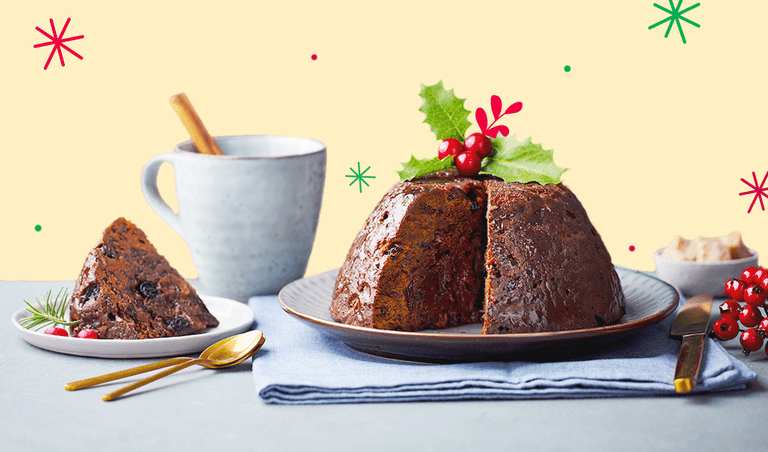 Christmas carp (Czech Republic)
Christmas carp is a must-have dish on the holiday table on Christmas Eve in the Czech Republic. 
Usually, the cook serves a carp in fried pieces, whole baked or stuffed. Increasingly, Czechs are buying two carps: one to cook, and the other, they put into the bathroom and then set free.
Stollen (Germany)
Stollen - baked goods with candied fruit and raisins, which in shape and color resembles the baby Jesus wrapped in diapers. There are also varieties with nuts, marzipan, and poppy seeds. The Germans make them from special yeast dough with a lot of flour and oil. 
After baking, they coat it with ghee and sprinkle it with powdered sugar. 
Fried bananas (Cuba)
In Cuba, Christmas Eve, as in many Latin American countries, is an occasion for the whole family to gather for a festive dinner. It usually consists of rice, black beans, rice pudding, and rum pie. 
They cook bananas with melted lard and traditionally eat them with sea salt - sometimes pepper, for piquancy.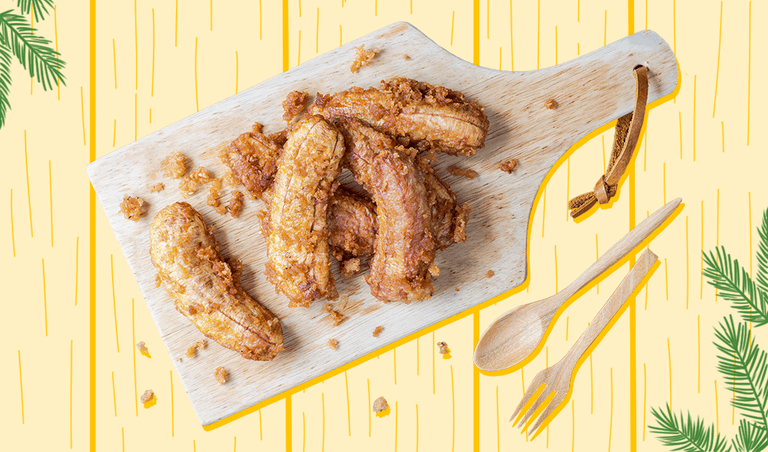 Parrillada (Argentina)
Parrillada is an Argentine national dish and the centerpiece of the Christmas table. Among the ingredients is grilled beef. Specially trained chefs - asador or parrillero - control the process of cooking. They know how to cut and roast different parts of the carcass. 
Sometimes the dish may have intestines, blood sausages, and a thymus gland.
Melomakarona (Greece)
Melomakarona - sweet biscuits, in the form of oval. It's a must-have item on the Christmas table in Greece. The cook bakes it and then abundantly soaks it in sugar-honey syrup with citrus, which gives it special moisture. After that, the chef sprinkles the cookies on top with chopped walnuts. 
This dessert appears in almost any store or bakery during the winter holidays.
Smoked salmon (Ireland)
The favorite food of the Irish on the Christmas table is smoked salmon with a shrimp cocktail. They put it on top of fresh green lettuce leaves. The cook can serve salmon simply with sauce or vegetables. The Irish consider smoked fish a good gift for colleagues, friends, and family.
Kutya (Ukraine)
Kutya is a sweet porridge made from wheat, barley, sometimes rice, adding honey, poppy seeds, raisins, and nuts. In different regions of Ukraine, recipes differ in the composition of cereals and additives. But, indeed, kutya should be sweet!
Lechon (Philippines)
It's hard to imagine a Filipino Christmas without a festive dish called Lechon. They roast a whole baked suckling pig on a skewer over hot coals. As a result of such a long process, a crispy, ruddy crust forms outside, and the most tender meat appears inside. 
Chives, bay leaves, black pepper, garlic, salt, lemongrass, and tamarind are good spices for the dish.
Fried chicken (Japan)
Japan is a specific country with unique traditions, so it isn't surprising that this is where the most unusual Christmas celebration in the world takes place. Since the 1970s, the Japanese have been going en masse to the Kentucky Fried Chicken (KFC) fast food restaurant, famous for its special breaded fried chicken with a secret recipe. 
Also, on the festive table, you can find osechi-ryori - a set of seafood, which includes fish, shrimp, oysters, caviar, lobster, and seaweed. The composition may vary. It lays in special lacquered boxes. Each element of the osechi-ryori has its symbolic meaning.
Flaeskesteg (Denmark)
Flaeskesteg is a traditional Danish Christmas dish. It is crispy baked pork with red cabbage stewed in duck fat with sugar, apples, onions, vinegar, red wine, and spices. The traditional Christmas meal ends with sweet rice porridge served at midnight. 
One almond appears in the dish - if an unmarried girl gets it, then in the coming year, according to legends, she will get married. For everyone else, a sweet find promises happiness. The one who got the almonds must hide it until everybody eats the whole porridge.
Panettone (Italy)
The Christmas table is different in different regions of Italy. Somewhere they cook seven different fish dishes, somewhere they serve dried cod and squid, and somewhere they eat fried lamb or poultry. 
The only dish that unites the whole country is the festive panettone cake. 
It includes sweet yeast dough with candied fruits, chocolate chips, raisins, and nuts. Each housewife has her own recipe for this dessert.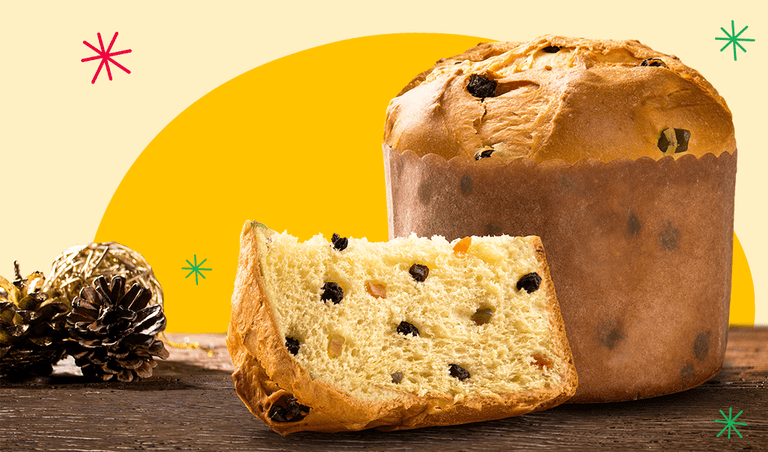 Kuciukai (Lithuania)
Kuciukai is a small Lithuanian biscuit with poppy seeds. The cook usually serves it with poppy seed or cow's milk to soften the texture and flavor. They take place during the Christmas dinner (Kūčios in Lithuania). 
On this evening, people taste 12 dishes, mainly consisting of fruits, vegetables, mushrooms, and fish. At the same time, meat isn't part of the table.
Sorrel (Jamaica)
Sorrel is the only drink that appears on the Christmas list in Jamaica. Its base is hibiscus flowers. Ginger, orange peel, cinnamon, and sugar are the other ingredients of the beverage. And, of course, you cannot do without rum in Jamaica. It completes the flavor composition of sorrel.
Classic Christmas dinner ideas
But enough about traditional recipes from different countries. You probably would like to know what easy recipes you can try right now. Simple classics are the perfect choice for this aim.
Most of the Western traditions of celebrating Christmas are now roaming the world, complementing the classic cuisine of many other countries. In this category, we included those dishes that are most often found in the United States and Europe (but in other countries too). For now, they've become an integral part of the Christmas miracle.
Christmas turkey
This is probably the most frequently mentioned meal regarding Christmas. Yes, this is absolutely a finger-licking dish! But do you remember how to cook it well? To make your grand entrée tasty, first, watch all the stages of the cooking method, then prepare the ingredients and start to cook.
Cooking time: more than 3 hours
Ingredients: turkey weighing 4-4.5 kg (8.8-10 lbs), a pinch of sage, 2 carrots, 1 large orange, 50 g butter, a pinch of nutmeg, 12 stalks of rosemary, 1 head of garlic, 4 medium red onions, 2 stalks of celery, 12 strips of bacon, a handful of bread crumbs, a handful of dried apricots, 300 g minced pork, zest of 1 lemon, 1 egg, sea salt, ground pepper, olive oil, 2 tbsp. of flour, 1 L chicken, or vegetable stock.
Cooking method:
Preheat the oven to 200 ° C (390 F). In a small saucepan, heat the olive oil, add the sage, six strips of bacon, two finely chopped garlic cloves, and one chopped onion.
Fry until golden brown. Remove from heat and add bread crumbs and finely chopped dried apricots.
Cool the mass well. Add minced pork, lemon zest, egg, nutmeg, salt, and pepper. Mix everything thoroughly.
Wrap one finely chopped garlic clove and rosemary in the remaining bacon. Pierce the thighs and legs of the turkey with a knife and insert the resulting bacon rolls evenly.
Chop the carrots and leftover onions. Position the turkey on the platter with the neck facing you.
Dry the bird with a paper towel. Gently pull on the edge of the skin-hugging the breast, and begin to loosen the meat towards you.
Having built a "pocket" between the skin and the meat, fill it with the resulting minced meat, gently tucking the ends of the skin so that the filling does not fall out.
Weigh the stuffed turkey to calculate the roast time (20 minutes at 500g / 1lb). Rub the turkey with olive oil and sprinkle with salt and pepper.
Place chopped onions, carrots, and leftover garlic around the turkey. Cover with foil and place in the center of the preheated oven.
Reduce the temperature to 180 ° C (360 F) and bake for the calculated time, or until juicing begins to ooze from the thighs.
You can remove the foil for the last 45 minutes of cooking to give the turkey its characteristic crispiness.
Serve the turkey with mashed potatoes or vegetables. Spicy cranberry sauce will also go well with it.
Cranberry turkey sauce
Cooking time: 30 minutes
Ingredients:
680 g fresh or frozen cranberries
1 and 1/4 cups sugar
4 wide strips of orange peel
1 cup freshly squeezed orange juice
1/2 teaspoon ground cinnamon
Salt
Water
Cooking method:
Combine cranberries, sugar, orange zest and juice, cinnamon, 1/4 teaspoon salt, and 1/4 cup water in a saucepan.
Bring to a boil, then reduce heat to medium and cook, occasionally stirring, until the cranberries burst and the mixture thickens, 12-15 minutes. The sauce will thicken as it chills.
Remove from heat; let it cool completely.
Cranberry sauce can be transferred to a sterilized jar with a lid and kept in the refrigerator for about a week.
Brussels sprouts 
Cooking time: 30 minutes
Ingredients:
A large pinch of grated or ground nutmeg
Olive oil
Salt, freshly ground black pepper
Fresh Brussels Sprouts - 500 g (1 lb)
Hard cheese - 50 g
Milk - 400 ml
Butter - 50 g
Wheat flour - 40-50 g
Cooking method:
Pour 2-2.5 L boiling water into a large saucepan, add 1 tbsp. l. salt. Put on high heat. Sort out the Brussels sprouts, remove damaged and brown leaves. When the water boils and the salt dissolves, carefully place the cabbage in a saucepan. Let it simmer, reduce heat to low, cover, and make sauce.
Put a saucepan over medium heat, immediately sprinkle the bottom with flour, and on top, scatter the butter, chopped into small pieces. Wait until the butter has melted about halfway, and stir the flour and butter with a wooden spoon.
When the flour and butter form a single mass, pour half the milk and continue stirring. Add nutmeg and 1-2 pinches of salt.
When the mixture regains unity, pour in the remaining milk, stir again, let it simmer, and remove from heat. Cover and leave for precisely a minute while grating the cheese yourself on a medium grater. Pour the cheese into the sauce, stir until completely dissolved.
Discard the cooked cabbage in a colander. Shake several times. Put the saucepan with the sauce on low heat, add the cabbage. 
Stir for a minute to coat the cabbage to some extent with the sauce. Remove from heat, place in bowls, season with pepper, lightly drizzle with olive oil. Simple and yummy - now you can eat!
Christmas ham
Cooking time: 2.5 h
Ingredients:
1 smoked ham on the bone, preferably with skin
1/3 cup maple syrup (or you can use honey)
1/3 cup ketchup
2 tbsp hot chili sauce (such as Sriracha)
2 tbsp balsamic vinegar
Cooking method:
Boil the ham a day or two before baking and store it in the refrigerator for convenience. The next day, simply bake the ham before serving.
Place ham (leg with bone) in a large saucepan, cover with hot water, bring to a boil over high heat, reduce heat to low, and simmer for about 1 ½ hour. Do not cover with a lid. You don't need to salt - remember that the ham is salted. Let the ham cool in the water. Remove the cooled ham from the liquid and refrigerate overnight if not cooked on the same day.
Remove the ham from the refrigerator until it is at room temperature (about 45 minutes before roasting).
Heat oven to 200 C (400 F).
Loosen the skin around the ham, but leave it on the ham.
Place the ham on a baking sheet or in a baking dish.
Mix syrup (or honey, pomegranate glaze), ketchup, hot sauce, and balsamic in a bowl.
Spread the sauce generously on the ham.
Bake for 45 minutes.
Grease the ham with the sauce again.
You may need to cover the ham loosely with foil to prevent charring. Cook for another 15-20 minutes.
Remove the ham from the oven. Cut off burnt areas, if any.
Brush with sauce, chill slightly, cut into thin slices and serve.
Christmas pudding
Cooking time: 2.5-3 h
Ingredients: butter 110 g, chopped almonds 90 g, dried apricots 100 g, light raisins 110 g, dark raisins 110 g, dried cranberries 50 g, prunes 100 g, roasted hazelnuts 50 g, sugar 170 g, wheat, flour 200 g, baking powder 5 g, cocoa powder 1 tbsp, rye crumb bread 200 g, ground ginger 3 g, cinnamon 5 g, nutmeg 1/3 tsp, vanillin 2 g, ground cloves 2 g, 1 zest of 1 orange, milk 235 g, 1 chicken egg, cognac 500 ml.
Cooking method:
Wash dried fruits with hot water, fold them into a sieve. Then pour 200 ml. brandy and let it brew for at least a day.
Combine all dry ingredients.
Add dried fruits and nuts, zest, and rye bread crumbs.
Add milk, then egg.
Then oil and cognac (1 tablespoon). Mix well.
Grease a baking dish with butter. Place a piece of foil on the bottom.
Lay out the dough, cover tightly with foil, and bake in an oven preheated to 160 degrees until tender. I got 1 hour and 30 minutes. Then pierce the pudding with a toothpick in several places and drizzle with brandy so that it is well absorbed into the pudding.
Wrap it in paper, then put it in a bag. Store until Christmas. Sprinkle with icing sugar or icing, or garnish the pudding before serving.
Eggnog
Eggnog is a traditional Christmas drink. But the traditional recipe is more like a fairytale for the kids. The special "ingredient" for this drink is a shot of brandy. So, depending on your preferences, it may become either alcoholic or non-alcoholic drink:
brandy - 40-50 ml;
milk - 50 ml;
egg - 1 pc.;
sugar syrup - 10 ml;
grated nutmeg to taste.
In a mixing container, combine ice cubes (about half the volume of a shaker) and the rest of the ingredients, except for the last one. Beat the mixture for about a minute. Then filter the cocktail and sprinkle with nutmeg. Ready!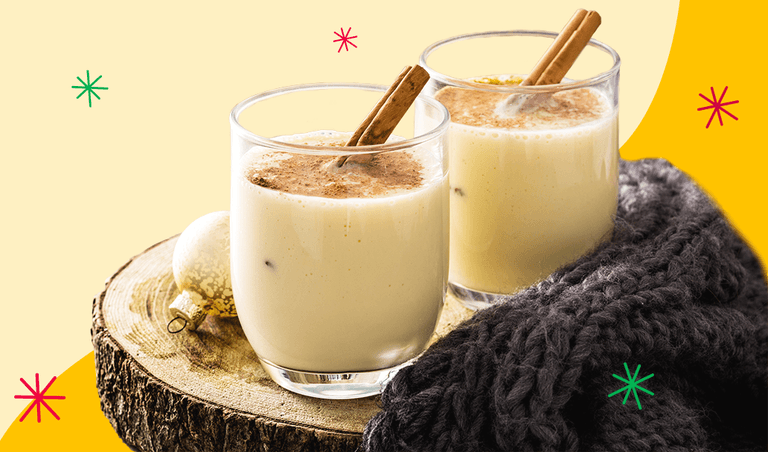 Non-traditional Christmas dinner recipes
We've just introduced you to the classic recipes for Christmas food. But what about something less traditional?
Of course, many of us love to respect cultural norms and customs, but sometimes even the most conservative people want to modify the menu. Is it that bad looking for some kind of creative dish for a family feast?
Therefore, especially for those crazy about Christmas and experiments, we've prepared several new options for non-traditional dishes. 
Christmas cupcake with tangerines
Often we associate inter holidays with tangerines. But what about tangerines in a meal, for instance, a cupcake? It'll steal the show!
Cooking time: 2 h
Ingredients:
Butter or margarine - 150 g
Sugar - 125 g
Eggs - 3 pcs.
Flour - 125 g
Baking powder - 1 teaspoon
For filling:
Mandarins - 2 pcs.
Dried fruits - 150 g
Orange liqueur - 2 tablespoon
Butter - 20 g
Sugar - 1 teaspoon
For decoration:
Powdered sugar
Fine sugar - 1 tablespoon
Egg white
Tangerine slices
Lemon zest
Sprigs of rosemary
Cooking process:
Peel the tangerines and disassemble them into wedges. Leave for an hour to dry the film on the slices.
Soak dried fruits in liqueur for 30 minutes, but for now, prepare the dough.
Whisk butter and sugar until fluffy.
Add eggs one at a time and beat. Add flour, sifted with baking powder, and beat.
Preheat a frying pan, add 20 g butter and a teaspoon of sugar. Arrange the tangerine wedges and fry for a couple of minutes on each side. Place on a plate to cool.
Put dried fruits and liquor on the same skillet. Warm up until the alcohol evaporates.
Add cooled, dried fruits to the dough and mix gently.
Grease the mold with butter and sprinkle with flour. Lay out the dough, transferring the tangerines to it. Bake the Christmas muffin at 180 degrees for about an hour. Check the readiness of the cake with a wooden stick.
Cool it down. Sprinkle with powdered sugar. Garnish the Christmas cake with lemon zest and tangerine wedges. Brush lightly with egg white, sprinkle the Christmas cake with fine sugar (it will look like snow). The Christmas cupcake with tangerines is ready!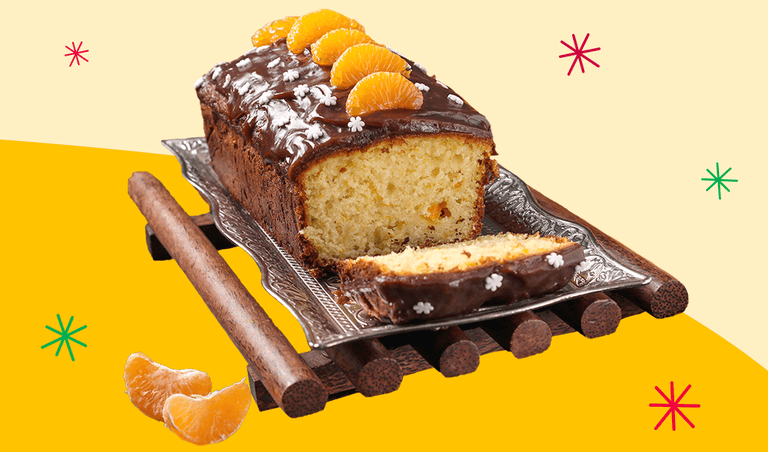 Pork neck with honey mustard glaze
Cooking time: 2.5 h
Ingredients:
Pork neck
Olive oil - 30 ml
Salt to taste
Black peppercorns - 40 g
Honey - 80 g
Mustard - 80 g
Soy sauce - 50 ml
Cooking method:
Shape the meat by tying it.
Drizzle over the meat with olive oil (half the norm).
Season with salt.
Grind the black peppercorns (using a rolling pin).
Roll the meat in ground black pepper.
Pour the butter over the meat again.
Bake the meat in the oven at 160 degrees (320 F) for 1-1.5 hours.
Prepare the icing. To do this, mix the mustard with honey until smooth.
While stirring, add soy sauce to the mustard-honey mixture.
Remove the meat from the oven, remove the binding threads.
Pour the glaze over the meat. Bake for another 10-15 minutes at 180 degrees (356 F). Bon Appetit!
Christmas stuffed apples
Cooking time: 30 min
Ingredients:
Puff pastry - 200 g
3 apples
Dried apricots - 70 g
Walnuts - 2 tbsp
1 yolk
Sesame seeds - 1 tsp
Sugar - 1 tsp
Cooking method:
Cut off the tops of the apples and remove the core.
Cut dried apricots into small pieces.
Grind the walnuts.
Pour nuts and dried apricots onto a plate, mix well.
Stuff the apples with nuts and dried apricots, pressing the filling well.
Lightly sprinkle the table with flour, lay out the puff pastry, roll it into a layer. Cut into small strips.
We make "lids" for apples from strips of dough.
We transfer the stuffed apples in the dough to a baking sheet to bake the apples. Lubricate the dough on top well with yolk, sprinkle lightly with sugar and sesame seeds.
We send apples stuffed with dried apricots and nuts to the oven preheated to 180 degrees (356 F) and bake for 20 minutes. Let the stuffed apples in puff pastry cool slightly and serve them at the Christmas table.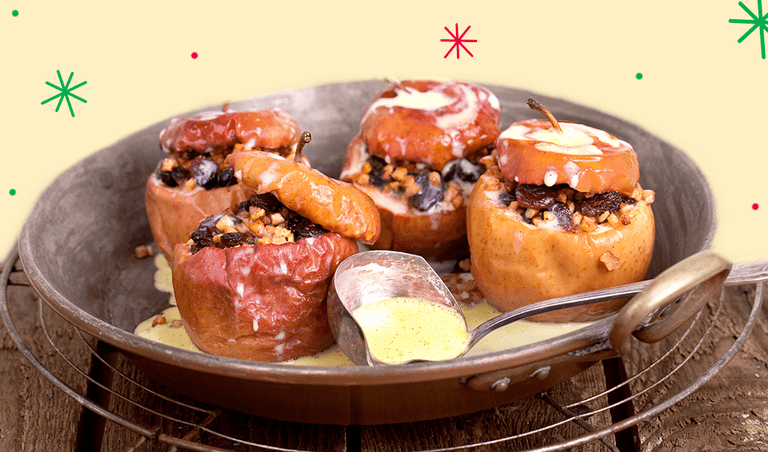 Christmas meringue
Cooking time: 2 h 20 min
Ingredients:
3 egg whites
Sugar - 180 g
Lemon juice - 2 tsp
Cooking process:
Divide the eggs into whites and yolks. 
Pour the egg whites into a clean, dry bowl.
Measure out the sugar and add it to the bowl of egg whites. 
Whisk the whites with the sugar and place in a steam bath. Put a bowl with the protein-sugar mixture on the saucepan, making sure that the bottom of the bowl does not touch the water. While stirring the mixture with a whisk, wait until the sugar crystals disappear. This will take about 5 minutes.
Pour the protein mixture into another bowl, it will have a temperature of about 60 degrees (140 F). Whip the meringue. You can beat the meringue with a mixer, but this will take more time.
Beat the protein mixture until it cools down, and the meringue acquires a dense consistency, white color, glossiness, and the grooves from the mixer remain clear. Pour in the lemon juice about halfway through the whisking process.
Transfer the meringue to a baking sheet lined with baking parchment.
Dry the meringue in an oven preheated to 75-80 degrees (167-176 F) for about 2 hours. The meringues should be completely dry, easily peeled off the parchment. Christmas meringue is ready!
The bottom line
Every year people celebrate Christmas, and each of us treats it differently. For some, it is, first of all, a religious holiday. For others, it is an opportunity to spend time with relatives and friends, and for some, it is a time of parties.
One way or another, when it comes to a feast, we all try to remember or find grandma's old recipe for chicken or eggnog. Unexpectedly your kitchen becomes a place for creative exploration.
Now you've learned a little more about classic unconventional dishes and can choose whatever you like. Take another look at the recipe list and prepare a family dinner that tastes like the magic of Christmas. For sure, you'll fill out your whole menu. Bon appetit and happy holidays!