Mediterranean Diet for Weight Loss: Main Principles and a 7-Day Meal Plan
Remember how Elizabeth from Eat. Pray. Love has gained a couple of pounds while eating in Italy? And even with this tremendous example of fattening features of Italian cuisine, there are still scientists who state that you can lose weight on the Mediterranean diet?
Check out how you can enjoy Italian, Tunisian, French, and Spanish meals that are high in fat, drink wine, and still lose weight!
Eat tasty food and lose weight with Unimeal app!
Take a Quiz – Get personal meal plan – Achieve your weight goals!
Start Quiz
What are the differences between Mediterranean cuisine and the Mediterranean diet?
The Mediterranean diet is an eating pattern that was formed on the basis of cooking traditions of the European countries of the Mediterranean coast, namely Italy, south of France, Greece, and Spain. Fun enough that during the economic elevation of the 60s and 70s, it was forsaken as it seemed to be too poor and primitive compared to the American cuisine, rich in protein and fat.
When we describe Mediterranean cuisine, we usually speak of the so-called Mediterranean triad: Olive, wheat, and grape, meaning oil, bread, and wine. When it comes to the Mediterranean diet, though, the basics are not precisely the same.
For example, unlike the diet, Mediterranean cuisine applies lard and butter and offers more poultry and red meat. In the diet, though, these products should be consumed in moderation. When it comes to pasta, lasagna, gelato, and pizza, the dieter should also apply portion size control.
How it all started?
The Mediterranean diet regained its popularity in the 90s. It all began with the Seven Nation Study conducted by the American physiologist Ancel Keys, who decided to prove the connection between cardiovascular disease among wealthy Americans of 45-55 years and their diet. After several cohort studies1Keys A., Taylor H. L., Blackburn H., et al. (1963, September 1). Coronary Heart Disease among Minnesota Business and Professional Men Followed Fifteen Years. Circulation. DOI:10.1161/01.CIR.28.3.381, in 1956, he started a survey that took almost 50 years and covered seven countries: United States, Italy, Greece, Finland, Japan, former Yugoslavia, and the Netherlands. This research has shown that the death rate from coronary diseases in the United States and Northern Europe was higher2Menotti A., Keys A., Aravanis C., et al. (1988, November 17). Seven Countries Study. First 20-Year Mortality Data in 12 Cohorts of Six Countries. Annals of Medicine. DOI:10.3109/07853898909149929 than in Southern European countries.
Ancel Keys decided that the reason behind these phenomena lay in the lifestyle differences of the researched countries, namely in their traditional diets. After multiple studies, the Mediterranean diet was officially renowned as one of the healthiest eating systems overall and the healthiest diet3Franquesa M., Pujol-Busquets G., García-Fernández E., et al. (2019, March 18). Mediterranean Diet and Cardiodiabesity: A Systematic Review through Evidence-Based Answers to Key Clinical Questions. Nutrients. DOI:10.3390/nu11030655 to prevent cardiovascular disease and diabetes.
What are the main principles of the Mediterranean diet?
There is no secret behind the Mediterranean diet. Though it's not the same as Mediterranean cuisine, the diet is still based on traditional eating patterns.
Main foods:
The basis of the Mediterranean diet is plant-based products: Vegetables, fruits, beans, and grains.
Olive oil is the primary source of fats: It is used both for seasoning salads and deep-frying.
As the Mediterranean sea is generous for gifts, people living in the nearby countries eat a lot of fish and seafood.
Fragrance-rich, colored and flavored spices, and herbs are widely used: Saffron, garlic, marjoram, rosemary, basil in Italy or cumin, coriander, cinnamon, cloves, chilies, and paprika in Morocco.
Products consumed in moderation:
You won't see red meat and poultry that often in the Mediterannean meal plan. 
Fat cheese, eggs, and yogurt are consumed in moderation.
The Mediterranean diet offers you enjoying your wine regularly but no more than 1-2 glasses a day.
Products you should minimize:
Overly processed foods: Candies, sausages, manufactured sauces, prepacked foods. The more you cook by yourself, the better. 
Soft drinks. Drink clear water instead, or have a glass of dry red wine now and then.
Added sugar. Even though traditional Mediterranean cuisine offers some creamy sweet desserts like gelato or tiramisu, you should opt for fresh fruits and berries as your source of sweetness if you want to lose weight faster.
Main principles of the Mediterranean diet
The Mediterranean lifestyle is not only about food. It's about using local fruits and vegetables when they're ripe and staying physically active. It's about sharing your food with people you love and loving what you eat.
Share your food, and don't rush. One of the traditional Mediterranean sayings goes: share your meal with family and friends. The true secret of the Mediterranean way of living is finding the right balance between one's job, leisure, tasty food, and socializing with friends. This is the skill of enjoying life and finding pleasure in simple things.
Cook slowly and eat even slowlier. Don't hurry and enjoy the way your food looks, smells, and tastes. Make stews and eat as many vegetables as possible, adding them everywhere you can.
Don't count calories. The Mediterranean diet doesn't provide recommendations on calorie intake. However, you should consume as much as you burn if you want to maintain your weight and be in a caloric deficit if you're going to lose weight. Mediterranean diet doesn't offer you to count calories as this might increase pressure in your diet, while the Mediterranean lifestyle is about managing and avoiding stress.
How to lose weight on the Mediterranean diet?
Apply the plate rule. Half of your plate should consist of vegetables and fruits. ¼ should be grains or starchy vegetables and the rest ¼ should be reserved for the protein source. 
Control your portion sizes. Don't make a three-dimensional mount on your plate.
Choose fruits for dessert. Limiting added sugars will help you control insulin spikes and hunger urges.
Eat three square meals and avoid snacks. This is how people used to eat back in the 60s.
Stay physically active. Physical activity is in the basics of the Mediterranean diet. If you don't want to go to the gym, at least, opt for long walks. 
The Mediterranean diet 7-day sample meal plan
Day 1
Breakfast: Shakshuka
Lunch: Tomatoes with rice and potatoes
Dinner: Shrimp and grapefruit salad
Day 2
Breakfast: Avocado and tofu lavash rolls
Lunch: Lentils and tomato soup
Dinner: Tuna with cauliflower puree
Day 3
Breakfast: Banana oat pancakes with peanut butter
Lunch: Vegetable stew
Dinner: Frittata with broccoli and mushroom
Day 4
Breakfast: Poached egg and chicken toast
Lunch: Pasta with grilled sea bass 
Dinner: Hot beans
Day 5
Breakfast: Salmon and egg on toast
Lunch: Wild rice with chicken and veggies
Dinner: Braised octopus
Day 6
Breakfast: Bulgur with poppy seeds and raisins
Lunch: Stuffed lemons
Dinner: Grilled dorado with vegetable sticks and hummus
Day 7
Breakfast: Green roll with tuna and avocado
Lunch: Bouillabaisse
Dinner: Tuna and potato casserole
Try some of these authentic recipes right away! And don't forget to share these meals with people you love.
Italy: Tomatoes with rice and potatoes
Tomatoes, stuffed with rice and mint, baked in the oven are among the most popular summer dishes in Italy. They're delicious, both hot and cold.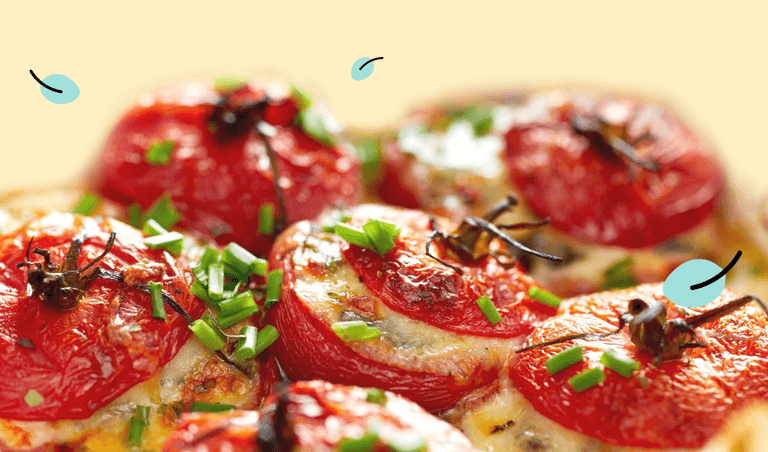 You will need for four portions: 
4 big, ripe tomatoes
150-200 g rice
2-3 average potatoes
1-2 garlic cloves
2-3 mint sprigs
Salt, black pepper, olive oil extra virgin
Preparation
Boil rice al dente in a large quantity of salted water. Pour off the liquid, leaving just a little bit.
Peel and chop the garlic. Chop the mint leaves as well. Add garlic and mint into the rice, add salt, pepper, stir the rice.
Cut the "lids" off the tomatoes (about ⅓) and take off the pulp with a sharp spoon. Place the tomato "cups" and "lids" onto the paper tower, edges down.
Peel the potatoes and cut them into dice. Heat the oven to 200-220C. Add oil to the casserole.
Salt tomatoes and fill them with the rice filling—place tomatoes into the dish. On the top, pour a little bit of tomato pulp juice that you've removed earlier. Mix this juice with 2-3 tablespoons of olive oil. Cover tomato cups with the "lids." Put dices of potato among the tomatoes, add salt, pepper, and olive oil. 
Bake until potato is ready, about 25-35 minutes. Serve hot.
Spain: Vegetable stew
You will find a vegetable stew in every Mediterranean country! In France, there is ratatouille, Italians have ciambotta or caponata, and in Spain, there is pisto manchego. People cook it in winter and summer, they eat it cool and hot, they put different vegetables into it depending on the season, and these all make pisto manchego a truly one-size-fits-all dish.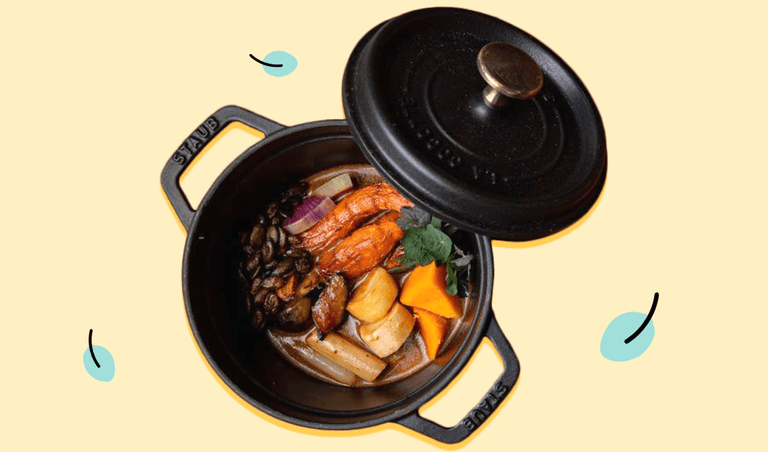 You will need for four portions:
4-5 ripe tomatoes
2 sweet peppers
1 small marrow squash
2 small eggplants
3 small onions
50 ml olive oil extra virgin
Salt, black pepper
Preparation
Take off seeds from sweet peppers and chop the pulp into medium-sized cubes. Chop marrow squash and eggplants into cubes of the same size.
Run the boiling water into tomatoes, then pour the cold water over them. Peel the tomatoes and cut the pulp into medium pieces. Chop the onion.
Heat olive oil in a large frying pan and sauté all vegetables except tomatoes over medium heat. Add tomatoes in 10-15 minutes and reduce the heat.
Simmer vegetables over low heat until sauce thickens, about 30 minutes—season with salt, pepper, and stir. Serve hot or chilled.
Malta: Hot beans
Beans are traditionally served as a snack in any restaurant in Malta. They can be spicy or not. Sometimes they add cumin to the dressing or opt for the traditional trio of oil, salt, and black pepper. Beans are squashed into thick dip sauces and served with toasted bread. In general, beans are a must on every table!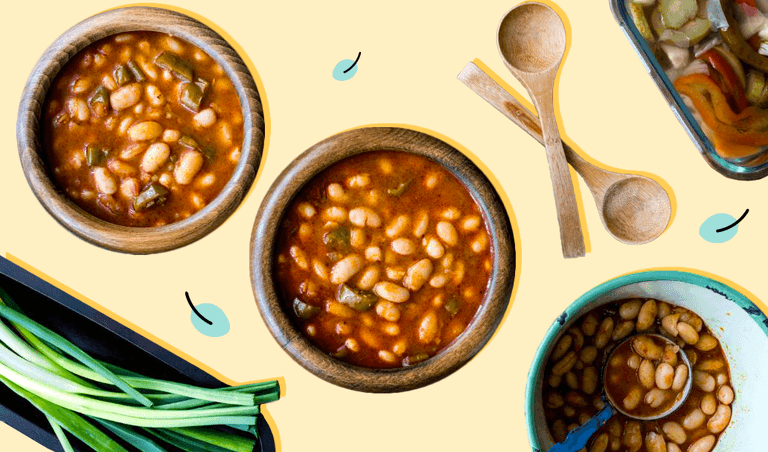 You will need for four portions:
400 g of lima beans
1 garlic clove
1 dry chili pepper
3-4 parsley sprigs
2 tablespoons of wine vinegar
4 tablespoons of olive oil extra virgin
Salt, black pepper
Preparation
Soak dry beans in a sufficient amount of cold water for 12 hours.
Rinse the beans, cover them with fresh cold water, bring them to a boil, and cook for about one hour until the beans are tender. Do not salt.
Drain the beans, put them in a bowl, add two tablespoons of oil, salt, pepper, and stir.
Prepare the dressing: finely chop the parsley. Peel and chop the garlic. Crush chili peppers in a mortar.
Mix remaining oil with vinegar, parsley, garlic, chili pepper, and salt. Drizzle the dressing over the warm beans and stir. Serve warm or let the beans sit for 2-4 hours.
France: Stuffed lemons
This starter is a good choice both for a family lunch and for a party with friends. If lemons are not too sour, you can add some of them into the filling.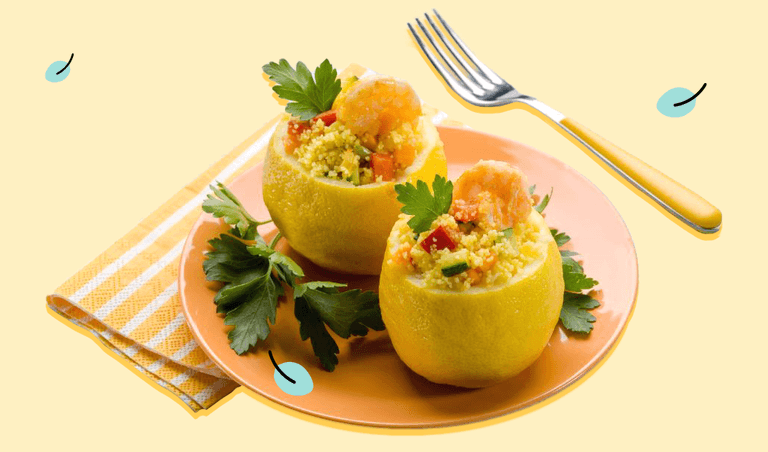 You will need for six portions:
3 large lemons
6 eggs
200 g of canned tuna
½ of sweet green pepper
½ of sweet yellow pepper
6-8 olives
6 cherry tomatoes
For the lemon mayo:
1 yolk
1 tablespoon of mustard
Juice from ½ lemon
200 ml of olive oil
Salt 
Preparation
Wash the lemons thoroughly, cut them across, and cut off the tops so that the halves could stand still. Gently remove all the pulp.
Make the lemon mayo: beat up the yolk, adding oil first drop by drop, and then, when the emulsion begins to form, with a thin stream. Then stir in the lemon juice and mustard, add salt.
Boil and shell the eggs. Cut the whites.
Take off seeds from sweet peppers and finely chop the pulp. Cut the cherry tomatoes into dices. Pour away liquid from canned tuna. Chop the olives.
Combine tuna, egg whites, peppers, cherry tomatoes, olives, and mayo—stuff lemons with the filling.
Crumble the yolks of the boiled eggs and sprinkle them over the lemons. Put lemons into the fridge for 30 minutes. Serve chilled.
Portugal: Tuna and potato casserole
Tuna is often called a "sea beefsteak," and it does taste more like meat and not fish in this dish. This dish is prepared throughout Portugal, but it is usually advised to try it in Tavira, known as the capital of tuna. Many cafes there specialize in cooking this particular fish.
You will need for six portions:
600-700 g of tuna fillet
8 average-size potatoes
2 big onions
3 garlic cloves
100 ml of dry red wine
6 tablespoons of olive oil extra virgin
1 bay leaf
1 tablespoon of ground paprika
1 teaspoon of cayenne pepper
Salt, black pepper
Preparation
Peel and chop onions and garlic finely. Heat the oil in the casserole with the heavy bottom, put there garlic and onion, and fry for about five minutes until the vegetables are soft.
Cut tuna into large cubes. Peel potatoes and cut them into cubes a bit smaller than tuna. 
Put tuna into the pan with onion and garlic and fry it from all sides. Then pour red wine and let some of it boil down. Add paprika and cayenne pepper. Stir. 
Put potatoes into the pan, add salt, pepper, and the bay leaf.
Pour in 500 ml of boiling water, put a lid on and stir on a bit of heat for about 15-20 minutes until potatoes are ready. Serve immediately. 
Greece: Braised octopus
Greece has more than 3,000 islands, surrounded by the clear waters of the Aegean Sea. Could it be possible for the Greek table to be fish and seafood-free? Young small octopuses are usually fried on a wire rack, but large ones are boiled and added to salads and stewed over low heat in oil with wine, vinegar, and tomatoes.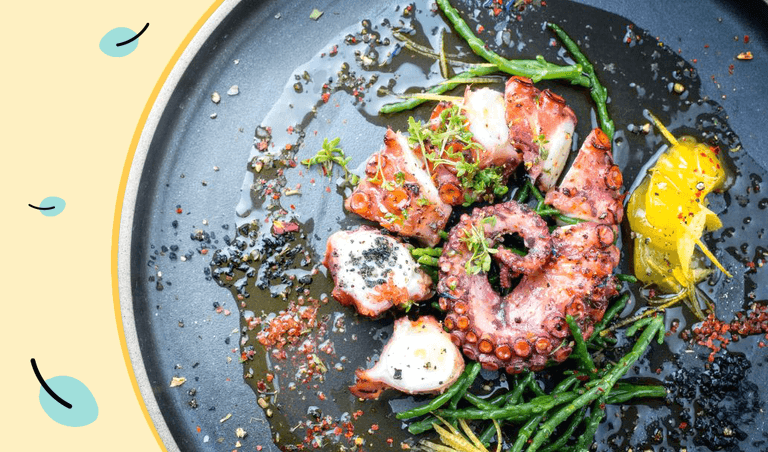 You will need for four portions:
1 kilo of large cleaned out octopuses
700 g of small onions
3 garlic cloves
500 ml of chopped tomatoes in juice
200 ml of olive oil extra virgin
50 ml of dry red wine
25 ml of red wine vinegar
1 bay leaf
4-5 peppercorns
Preparation
Peel onion and garlic but don't chop them.
Cut octopuses into average-size pieces, clean them, and put them into a casserole with no water. Put the casserole on low heat for about 7 minutes. During this time, turn the octopuses over a couple of times.
Once the octopus liquid has evaporated, add the vinegar, then the oil, and stir with a wooden spoon.
Then add the onions, garlic, wine, tomatoes, juice, peppercorns, and bay leaf. Season with salt and simmer over low heat, occasionally stirring, until the octopuses are tender. This will take you about 60-90 minutes.
This stew can be served as an appetizer, as the main course, or as a sauce for pasta.
Need more personalized recipes? Check out our Quiz and get a meal plan composed according to your preferences and goals. Enjoy your food, learn how to cook, and find out more about healthy eating with Unimeal.