30 Healthy Christmas Cocktails and Holiday Drinks to Celebrate in 2022
Yo-ho-ho and a glass of Christmas punch!
Winter holidays are coming to your house, and gingerbread cookies are already on the table? It means that you need only to decide what kind of beverages will decorate the festive table. And believe us, the selection of holiday drinks can be wider than the traditional "champagne-whiskey" circle. Even, picking from healthy drinks, you may find something more interesting than store-bought soda or grandma's lemonade.
Eat tasty food and lose weight with Unimeal app!
Take a Quiz – Get personal meal plan – Achieve your weight goals!
Start Quiz
We offer you decent options for alcoholic and non-alcoholic drinks for Christmas and winter holidays. A little creativity, and this particular party will become the most memorable in the passing year!
Christmas themed drinks 
Sometimes, to have a gorgeous party, we just need to visualize the holiday mood. The following drinks will help you with this.
"Polar Night"
Ingredients:
600 g (21 oz) fruit ice cream,
300 ml of champagne,
150 ml of rum (brandy or liqueur),
10-12 pieces of ice.
Preparation:
Take tall, thin glasses for this cocktail. Put a piece of ice in each glass, then a scoop of popsicles, pour the ice cream with rum (liqueur or cognac) on top, then, very carefully, from the tip of a knife, pour champagne into the glass, so that it surrounds the ice cream on all sides. It is best to serve the drink immediately after preparation. Don't forget about the straw!
"Christmas Dreams" 
Ingredients:
500 ml of champagne,
150 ml of vodka,
50 ml freshly squeezed orange juice,
50 ml freshly squeezed lemon juice.
10 teaspoons of sugar syrup (sugar and water in a 1:1 ratio, keep on fire, stirring occasionally, until the sugar dissolves),
cherries.
Preparation:
Mix vodka, syrup and juices in a shaker or mixer. Pour the resulting drink into glasses, then fill them to the top with champagne.
Pre-decorate the glasses. If you decide to decorate glasses with sugar rims, then pour all the components of the cocktail into glasses very carefully so as not to spoil such beauty. Place one cherry in each glass.
Christmas punch
This recipe will be a nice option for a big company.
Ingredients:
orange sorbet (ice cream) - 1 kg (35 oz);
orange juice - 2 l;
lemonade - 2 l;
champagne - 1.5 liters (two bottles).
Servings: 35 
Preparation:
Take a large punch bowl and place the ice cream in the center. Top with orange juice. On top is lemonade, and last, a couple of bottles of champagne. Stir the drink very carefully and wait for the foam to form. Immediately pour the punch into glasses and serve to guests.
P.S. Champagne, orange juice, and lemonade should be cold.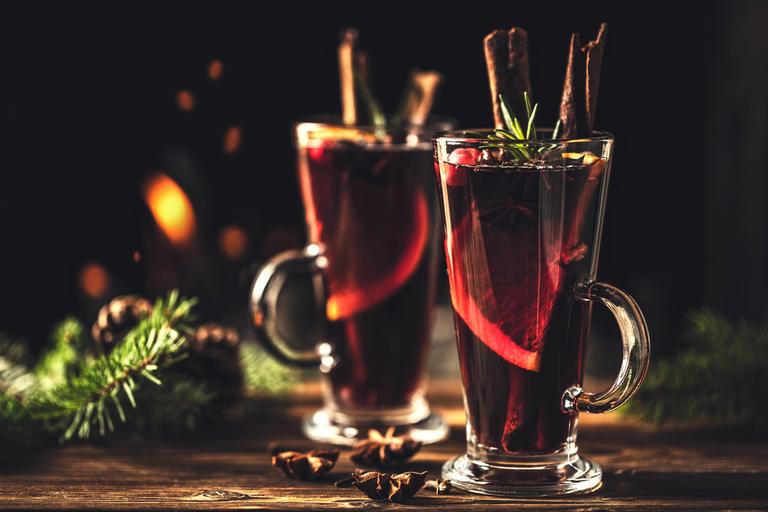 "Winter Kiss"
Ingredients:
Sprite drink,
500 ml of dry red wine,
large pieces of ice.
Preparation:
For this simple yet delicious cocktail, you'll need champagne glasses. Put two ice cubes in a champagne glass, pour 100 g of Sprite, then very slowly and gently pour 50 ml of wine into the glass. Pour the wine over ice in such a way that it lies on top and doesn't mix with the Sprite.
"Angel Wing"
Ingredients:
30 ml plum brandy,
30 ml of light liqueur Crème de Cacao,
0.5 ml cream,
cherries.
Preparation:
Pour all the components of this cocktail into a shaker and shake. Then strain the contents of the shaker and pour into glasses. Cut the cherries and place them on the edges of the glasses. Don't forget the straw.
"Amber" 
Ingredients:
½ cup crushed ice
1 egg,
1 bag of vanilla sugar
3 glasses of brandy,
champagne,
slices of canned pineapple.
Preparation:
Whisk the egg, vanilla sugar and cognac in a shaker or blender. Pour the drink into glasses, then add ice cubes to them and, last of all, add chilled champagne to the glasses. Decorate the rim of the glass with pineapple slices.
Easy Christmas cocktails with alcohol (vodka, gin, whiskey, prosecco, rum)
If you don't want to bother with the recipe, but want to warm up your throat a bit, then here's a list of easy to medium cocktails. They will all perfectly complement your Christmas table or any other day of the winter holidays.
Alcoholic mulled wine
Ingredients:
2 bottles. red wine;
150 g sugar;
15 clove seeds;
ginger root;
cinnamon stick;
lemon;
2 tangerines.
Preparation:
Place a grater on a large saucepan and finely rub the zest of lemon and tangerines. 
Peel, slice ​​and place in a saucepan one of the tangerines. In another tangerine, clove seeds are stuck and also placed inside the pan. 
Cut in half one lemon and also put it there. 
After that, add sugar and pour over the fruit and spices with wine. 
Cover the saucepan and place over low heat. Mulled wine should be well heated, but not brought to a boil. 
Strain and pour into tall mugs or glasses before serving. Mulled wine is a warming drink and is not intended for reheating.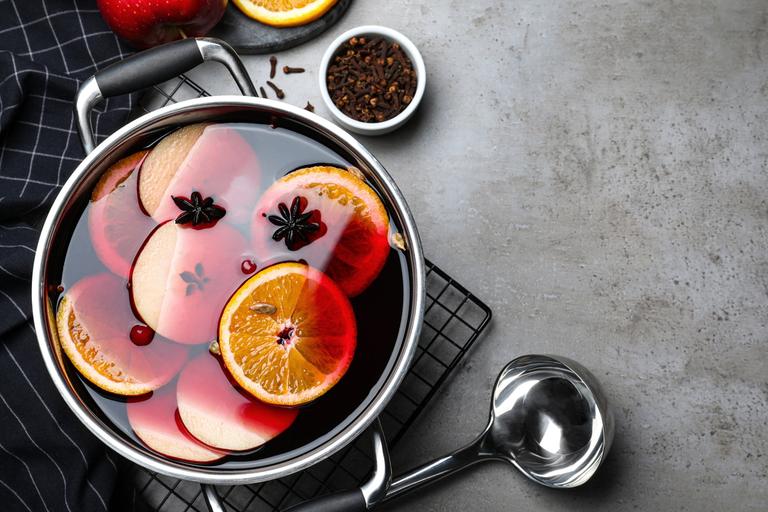 Pomegranate martini
Ingredients:
40 ml pomegranate liqueur
25 ml honey liqueur
50 ml vodka
90 ml pomegranate juice
pomegranate seeds
Preparation:
Place the pomegranate seeds in a martini glass. Mix the rest of the ingredients in a shaker with a couple of ice cubes. Pour cocktail into glasses.
Margarita
Ingredients:
300 ml tequila,
150 ml Cointreau orange liqueur,
300 ml lime juice,
2 egg yolks (optional).
Preparation:
Pour tequila, lime juice and Cointreau into a crushed ice shaker. Shake well and pour into a glass lined with salt. Garnish your Margarita cocktail with a lime or lemon wedge.
Cognac-based "Honeymoon"
Ingredients:
cognac - 20 ml;
honey syrup - 10 ml;
coffee liqueur - 20 ml;
juice from a quarter of a lemon.
Preparation:
The cognac-based layered shot starts with the bottom honey layer. Then lay out with a bartender's spoon coffee liqueur, lemon juice, and cognac exactly in the described sequence.
Hot Toddy
Ingredients:
honey - 1 teaspoon;
cinnamon stick;
lemon - 1 slice;
Carnation;
boiling water - 60 ml;
whiskey - 45 ml;
nutmeg (ground) - a pinch.
Preparation:
Put honey, a cinnamon stick, and a lemon with three carnations stuck in a mug. Pour boiling water over and add whiskey. The whiskey drink should be infused for at least five minutes, during which the spices will reveal their aroma. Sprinkle with a pinch of nutmeg on top and serve immediately hot to guests.
"Sea foam"
Ingredients:
60 ml of vodka,
10 ml sugar syrup
20 ml lemon juice or lime juice,
white of one egg,
3-4 ice cubes.
Preparation:
Place ice in a mixer or shaker, add additional ingredients and beat until foamy. Serve the cocktail in a tall and wide cocktail glass. You can garnish the cocktail with a cherry or fruit. Avoid melting ice quickly.
Screwdriver
Ingredients:
high quality vodka - 1 bottle;
orange juice without pulp - 3 l;
ice cubes.
Preparation:
Fill a glass halfway with ice, pour in 180 ml of orange juice. Finally, add a shot of good chilled vodka (45 ml) - and that's it, the screwdriver is ready to drink.
P.S. Among all cocktails with vodka for the new year, the screwdriver is the easiest to prepare, and at the same time has a pleasant, balanced taste.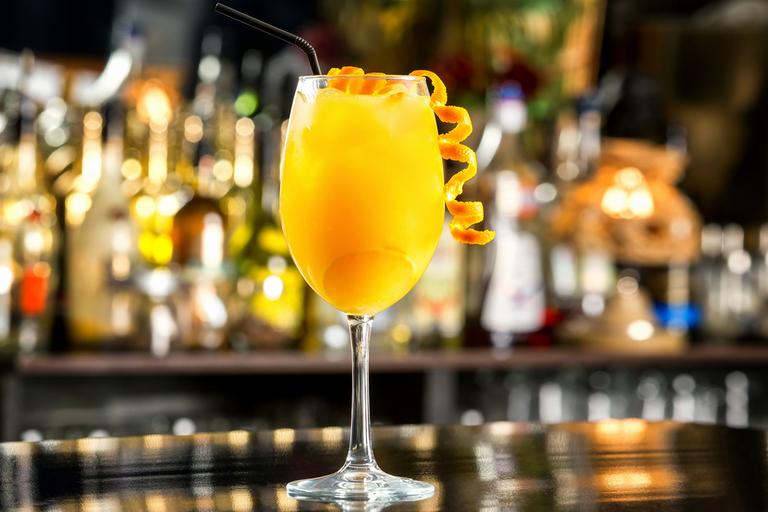 "Pink Campari"
Ingredients:
300 ml Campari,
300 ml whiskey
100 g olives,
some cranberry juice
some sugar syrup
raspberries and lime twist for decoration,
ice.
Preparation:
Mix all ingredients in a shaker with ice. Pour the resulting cocktail into a prepared chilled glass. Garnish with a raspberry and lime peel twist and serve.
"High Hopes" with champagne
Ingredients:
champagne - 1 bottle;
grapefruit juice - 350 ml;
1 grapefruit;
raspberries.
Preparation:
Champagne with juice creates excellent flavor combinations. To do this, grate the grapefruit zest on a fine grater. Pour 75 ml of grapefruit juice into one glass, and then fill to the top with champagne. Present the cocktail with raspberry berries on a skewer and rind shavings.
"Julie"
Ingredients:
202 ml golden tequila,
202 ml of Pisang Ambon liqueur,
302 ml pineapple juice,
3 dashes of grenadine pomegranate syrup,
10 circles of cannon,
10 cherries for cocktails.
Preparation:
Shake all ingredients together with ice in a shaker and put into a glass. String a circle of carom and a cherry on a skewer and attach to the edge of the glass.
Creamy whiskey cocktail
Ingredients:
cream 20% fat - 250 ml;
condensed milk - 1 can;
Irish whiskey - 400 ml;
instant granular coffee - 1 teaspoon;
chocolate syrup - 2 tablespoons;
vanilla extract - 1 teaspoon;
Amaretto - 1 teaspoon.
Preparation:
Mix whiskey, condensed milk, cream, instant coffee, chocolate syrup, and vanilla extract in a blender and add a little Amaretto (by the way, you can replace it with a teaspoon of almond essence). 
In a large container, beat the mixture for at least 30 seconds at high speed. 
You can drink the cocktail immediately, or to tightly close and chill it in the refrigerator. In the second case, shake the drink before serving.
P.S. The popular drink with whiskey has a pleasant creamy taste and a coffee-chocolate aftertaste with notes of almonds and vanilla.
Burning shot based on absinthe
Ingredients:
absinthe - 15 ml;
bitter schnapps - 15 ml;
Blue Curacao - 15 ml;
cream - 15 ml.
Preparation:
Mix all ingredients in a blender. Then move them into a glass and give a minute to separate into layers, after which set the top layer of absinthe on fire and drink quickly through a straw.
Royal vodka shot
Ingredients:
vodka - 20 ml;
raspberry syrup - 20 ml;
raspberries - 1 berry.
Preparation:
Put a raspberry berry in a pile, pour it with raspberry syrup. Carefully spread the vodka layer over the thick syrup using a cocktail spoon.
Tequila based clouds
Ingredients:
light tequila - 20 ml;
light sambuca - 20 ml;
absinthe - 10 ml;
Blue Curacao (liqueur) - 3 ml;
Creamy liqueur - 3 ml.
Preparation:
First of all, pour sambuca, then tequila. It's convenient to use a bartender's spoon for the process. 
Using a straw, we bury the indicated amount of liqueurs. 
Spread the top layer of absinthe with a spoon.
Bloody Mary
Ingredients:
sea ​​salt - 1 teaspoon;
ice cubes - 1 glass;
vodka - 50 ml;
tomato juice - 50 ml;
Worcester sauce - 2 drops;
Tabasco sauce - 1 drop;
salt, pepper - to taste;
stuffed green olives - 2 pieces;
stalk of celery.
Preparation:
Take a tall glass and coat the edges with salt. To do this, moisten the edges with a wet tip of a towel and dip in a plate of sea salt. 
Fill a glass with ice cubes. In an ice shaker, combine vodka, tomato juice, both sauces, pepper and salt. 
After intensive beating, pour into glasses. Olives strung on a toothpick, as well as a celery stalk cut into strips, complement the cocktail as a decoration.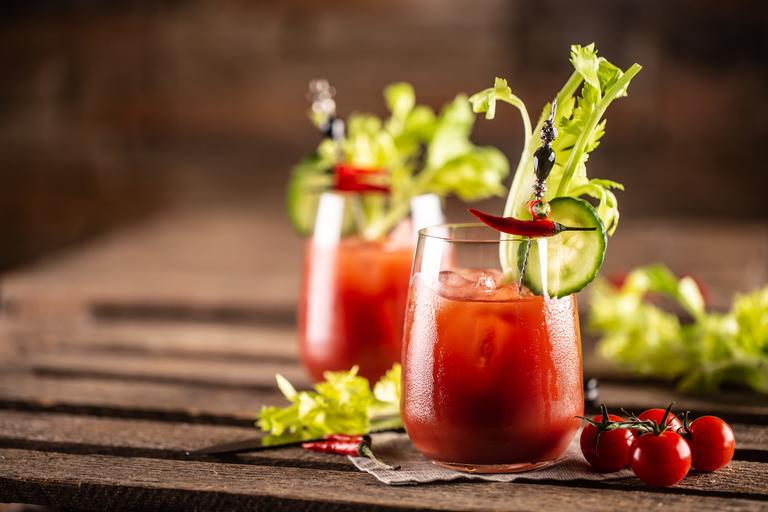 Non-alcoholic Christmas cocktails
Of course, not everyone loves to drink alcohol and fight morning hangovers. For those who decide to stick with a non-alcoholic bar menu, we provide another great list of simple drinks. Be ready for gustatory pleasure!
Non-alcoholic mulled wine
Ingredients:
cranberries - 200 g (7 oz);
grape juice - 200 g (7 oz);
cherry-currant berry mixture - 100 g (3,5 oz);
orange - 2 pcs;
grated ginger root - 1 teaspoon;
cinnamon stick;
ground cloves - 1 teaspoon;
nutmeg - 1 teaspoon;
sugar - 0.5 cups.
Preparation:
Pour at least 4.5 liters of water into a saucepan and boil. At the first sign of a boil, drop the berries and sugar. 
Slice open the oranges and squeeze the juice into a separate container. Transfer the berries to the bottom of the pan while cooking. Leave the peel of one orange to add to the drink after boiling again. 
While stirring, cook non-alcoholic mulled wine for another 10 minutes over low heat. 
At the last minute, while the cocktail is on fire, pour in orange juice and spices: ginger, cinnamon, cloves, nutmeg. Remove from heat, leave the drink for 20 minutes, strain and serve immediately.
Classic hot chocolate
Ingredients:
chocolate bar with 70% cocoa beans;
water;
sugar.
Preparation:
Melt the chocolate bar over low heat. To eliminate strong bitterness, you can take 30 grams of milk chocolate. Add a small amount of water to the melted chocolate. Add sugar to taste.
Cocoa with marshmallows
Ingredients:
500 ml milk
30 g cocoa powder
50-100 g sugar
30 g marshmallows
Preparation:
Mix sugar and cocoa powder.
Add some hot milk and mix.
Bring the milk to a boil.
Add cocoa and sugar. Mix and boil. Remove from heat.
Pour hot cocoa into glasses.
Place the marshmallows on top.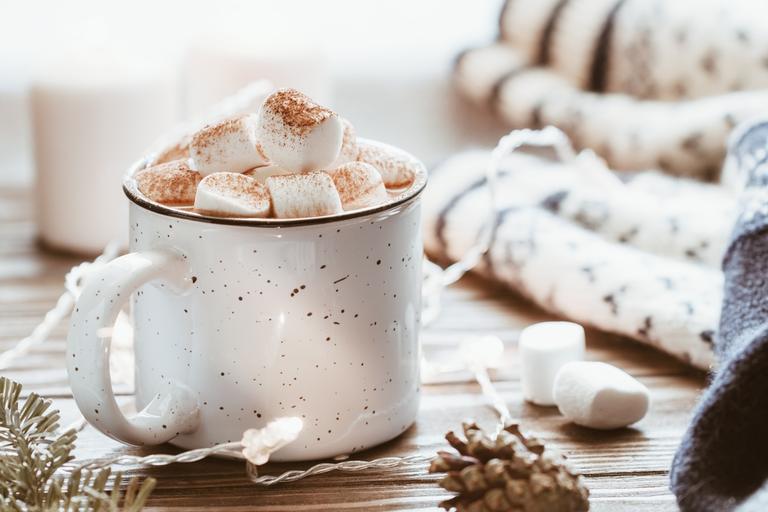 Homemade cherry and apple lemonade
Ingredients:
500 g (17,5 oz) frozen pitted cherries
100 g (3,5 oz) sugar
1 liter of highly carbonated water (but not mineral),
1 lemon,
1 apple,
1 tsp cinnamon,
¼ tbsp of boiled water.
Preparation:
Remove the frozen cherries from the refrigerator and defrost. 
Cook a thick syrup from sugar with boiled water, add cinnamon to it. 
Core the apple and cut into cubes. Grind half the total mass of chopped apples and cherries in a blender and add to the sugar syrup. 
Squeeze the juice out of a lemon and pour it into the mass. Pour the syrup into a pitcher, add sparkling water and stir. 
Pour the prepared lemonade into glasses, add a few cherries and apple cubes to each. 
Latte with gingerbread flavor
Ingredients:
30 ml espresso
1.5 dl frothed milk or milk drink
2 dl gingerbread syrup
Preparation:
Prepare an espresso in a glass. Mix the espresso with the syrup. Foam the milk (or plant-based milk drink) slightly and pour over the espresso.
Tangerine lemonade
Ingredients:
carbonated water - 2-3 liters;
tangerines - 1-2 kg (35-70 oz);
sugar - 3-6 tbsp.;
half a lemon.
Preparation:
Dissolve sugar in a small amount of heated water.
Squeeze juice from lemon. Remove the zest.
Peel the tangerines, remove the seeds. Puree the fruits with a blender.
Pour sugar syrup and soda into a large jug. Then mix. Also, add fruit puree, lemon juice and zest.
Stir the lemonade. If desired, add tangerine slices or lemon circles to the drink, and add ice.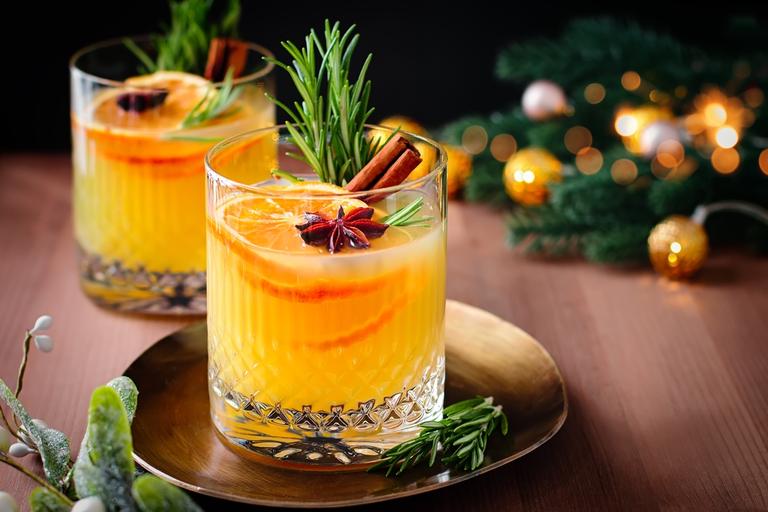 Ginger tea
Ingredients:
0.5 l of water
fresh ginger
2-3 cardamom pods
1 tbsp. of honey
½ a small lemon
1 teaspoon green tea
Preparation:
Brew tea as usual, leave for 3-5 minutes, strain and pour the infusion into a small saucepan or pot.
Add cardamom and ginger root to the drink, previously grated through a coarse grater.
Bring the tea to a boil over low heat, then keep it on the lowest heat for about 30 minutes. Then add honey, juice of half a lemon, and toss in the squeezed lemon peel for more flavor.
Cook for another 5 minutes, then turn off the heat and infuse the resulting drink for about 30 minutes.
Strain the ginger tea and pour into cups.
Orange punch with cinnamon
Ingredients:
oranges - 5 pcs;
freshly brewed black tea - 500 ml;
sugar - 5 tbsp.;
cinnamon - 1-2 sticks;
ice cubes.
Preparation:
Dissolve sugar in freshly brewed tea, add cinnamon sticks. Cool the drink to room temperature.
Squeeze juice from oranges. Put ice in a large bowl. Pour sweet tea and orange juice here. Then mix. Serve the punch right in the bowl, adding a few slices of orange!
Persimmon & tangerines milkshake
Ingredients:
milk - 200 ml
persimmon - 1 pc.
mandarins - 2 pcs.
fresh ginger, grated - 0.25 tsp
honey - 1 tsp
bran - 1 tbsp. a spoon
Preparation:
Prepare products for a milkshake. Wash the fruit.
Peel the persimmon, remove the seeds and cut into pieces. Peel the tangerines, disassemble them into slices and remove the film from them so that only the pulp remains. This will make the drink smooth.
Grate a piece of ginger root on a fine grater, you need a quarter teaspoon. Send fruits, honey, bran and ginger to the blender bowl.
Pour in some of the milk. Punch the contents of the bowl until puree.
Pour in the rest of the milk. Whisk the milkshake again.
Milkshake with persimmon and tangerines is ready. Pour the drink into glasses and serve. Enjoy your evenings!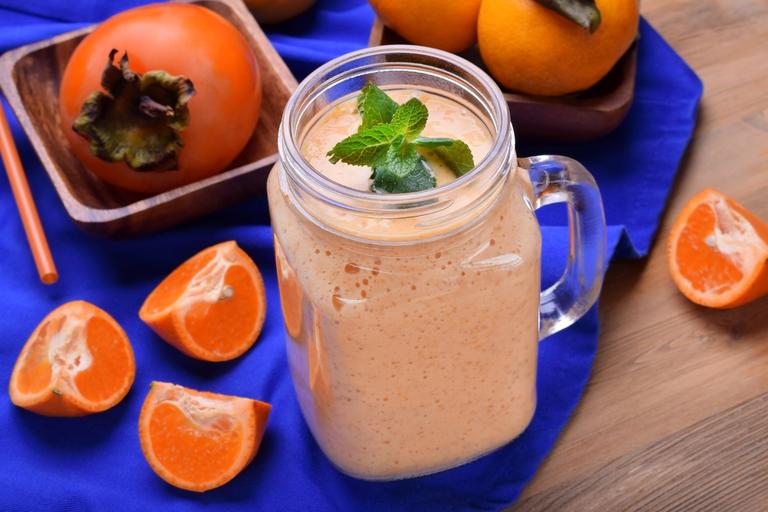 How to decorate a Christmas cocktail?
Many cocktail recipes are pretty simple. They don't take a long time to make them, so to make the cocktails really New Year's, let's take a little attention to decorating them.
As a rule, anything that looks bright, tasty, beautiful and sophisticated may become a great decoration for a cocktail. The method and type of decoration depends on the desire and imagination of the person who prepares the drink. You can garnish the cocktail with cherries flavored in Maraschino syrup (cocktail cherries), pieces of fruit, green olives or mint sprigs.
Several options for how you can decorate the drink:
cut a circle of lime, lemon or orange around the radius and place on the edge of the glass;
place horizontally on the glass a circle of lime, lemon or orange;
put a slice of pineapple on a glass horizontally;
twist, cut fresh citrus peel, roll up in a spiral and hang on the edge of the glass so that the spiral is outside or inside;
glazing with sugar (sugar frost or ice) - grease the edge of the glass with a slice of lime or lemon and dip in powdered sugar;
another option for icing with sugar - pour a little sugar syrup into one flat plate, and pour granulated sugar into another, dip the edges of each glass first into a plate with syrup, then immediately into a plate with sugar;
glaze with salt - brush the edge of the glass with a slice of lime or lemon and dip in coarse sea salt.
The bottom line
Christmas cocktails are already something familiar to everyone, but still special. After all, only once a year we sit down with our family at the table and celebrate this wonderful event. This day is the kickstarter of the winter holiday season. And now you have everything to make these months unforgettable!