5 Healthy Reasons Why You Should Incorporate Pears in Your Daily Nutrition
Pear is a simple fruit that can easily become a part of your healthy diet. Read this article to discover how pear influences your health and find food ideas and cooking inspiration.
Nutrition
One average sweet pear contains 101 calories, most of which come from carbs. Pear is not the right choice to tame your hunger, but it still can be a nutritious snack, especially if you combine it with protein- and fat-rich foods. 
Eat tasty food and lose weight with Unimeal app!
Take a Quiz – Get personal meal plan – Achieve your weight goals!
Start Quiz
Here's what you get from one medium pear: 
6g fiber or 21% of the daily value. 
27g carbs, most of which come from fructose.
1g protein. 
206mg Potassium or 4 % of the daily value. 
4.3 mg of vitamin C or 8% of the daily value. 
4.4mg of vitamin K or 6% of the daily value. 
0.082 mg Copper or 16% of the daily value. 
16mg Calcium or almost 2% of the daily value. 
Health benefits of a pear
Pear is not as simple as it might seem at first glance. Take a look at the main pear benefits you can easily enjoy if you start eating pears regularly: 
Better digestion 
Pears contain dietary fiber and phytonutrients. Soluble and insoluble fibers help to have regular stool without constipation and have probiotic features that promote healthy bacteria. Phytonutrients neutralize unhealthy bacteria and reduce the risk of food poisoning.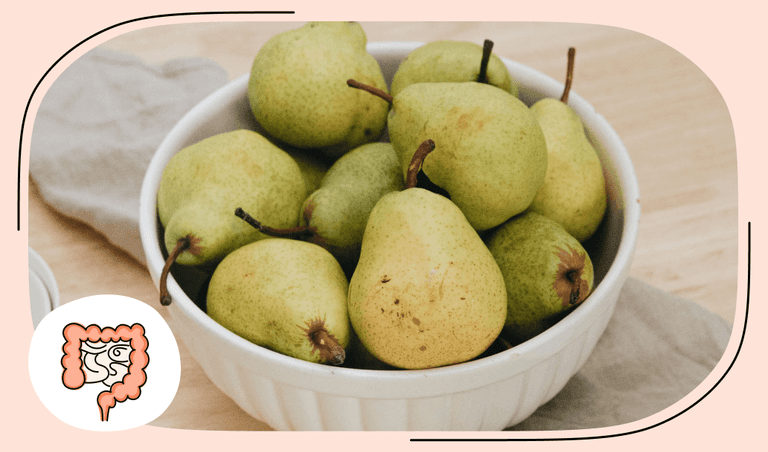 Cell repairment 
Pears are rich in vitamin C, which speeds up cell repair. You might have seen skincare products that contain vitamin C and have a higher price because of that. Good news: nourishing your body with vitamins from the inside is much cheaper and more effective than from the outside.
Weight control 
Pears are also lower in calories than other popular snacks such as sweets or nuts. Pears contain water and fiber, which makes them a satiating snack. They cannot relieve hunger for long as they mostly contain "fast" carbs, but they definitely do it better than chocolate. 
Stronger immunity
Pear has anti-inflammatory properties because they contain flavonoids and some other antioxidants. It makes your body's response to viruses and harmful bacteria stronger. The vitamins C and K also contribute to reducing the risk of inflammation. Combined together, these components can also reduce the risk of cancer, diabetes, and heart disease because of their antioxidant properties.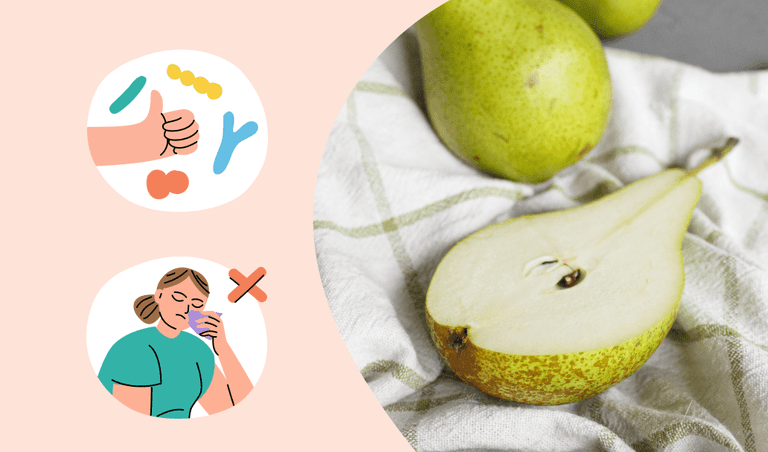 Benefits for skin
As we have mentioned before, vitamin C helps your skin recover faster. Apart from fighting viruses and bacteria, quick skin recovery also means that you will get fewer wrinkles and age spots, post-acne scars, and other imperfections. Dietary fiber saves collagen cells from falling apart and keeps them moisturized. 
You can also experiment with pears: use pear puree as a face mask or as a component for hydrogel patches.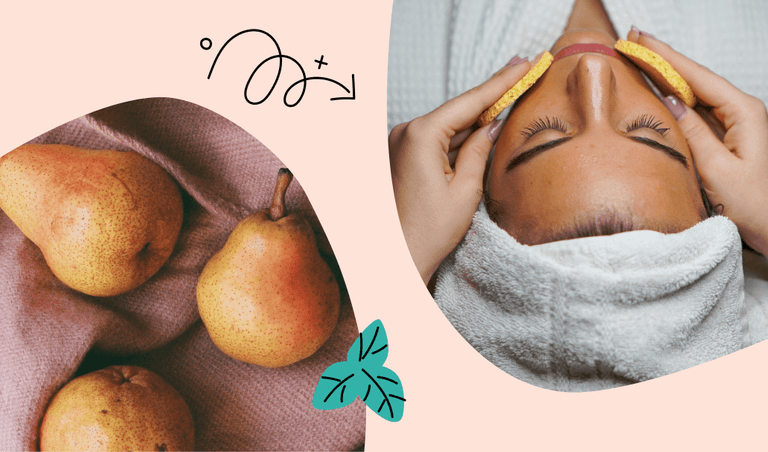 How to eat a pear
Pears are always available at supermarkets. We recommend eating them more frequently during autumn and winter when they retain most vitamins and minerals. 
You can eat fresh pears to get most of their health benefits. Just make sure they are ripe. Pears get ripe at room temperature, surrounded by sun. Dried pears are also a good snack; you can easily carry them anywhere you want. Pear puree is another variation of eating pears that can be a separate dish or a sauce. 
Roast pears to make them sweeter and creamier in texture. Then you can serve it with a dessert or decorate it with nuts. Such pears are also a good complement to chicken, duck, or pork as they enhance the meat's taste. 
You can also buy some pear pastille if you want to try something new. Pear jam is also delicious but not as healthy because it contains significantly more sugar. 
Pears won't be extra in almost any recipe that contains fruits. Here are the dishes you can put pears in:
Smoothies.
Oatmeal. 
Pies and cakes. 
Bruschettas. 
Salads (it can be a fruit or vegetable salad, cold or warm). 
Final words 
If you are still wondering if you need to include pears in your diet, let's recap their main benefits once again: 
They are easy to find at any time of the year. 
They promote gut, skin, and heart health. 
They support cell repair and immunity. 
You can find many recipes that include pears and eat pears separately in various forms. 
And they are just tasty!