Is Dr. Now Diet Worth Trying? Benefits and Hazards of the My 600-lb Life Diet
The TV show My 600-lb Life broadcasted on TLC gained immense popularity. It has a lot of fans interested in the "magic" diet composed by the show's surgeon, Dr. Nowzaradan. We reviewed Dr. Now's diet to show you all its pros and cons.
What's important to remember about Dr. Now's meal plans is that they were constructed specifically for morbidly obese patients who wanted to get weight loss surgery. 
Eat tasty food and lose weight with Unimeal app!
Take a Quiz – Get personal meal plan – Achieve your weight goals!
Start Quiz
If your goal is to lose ten pounds, this diet should not be your first option. It is very restrictive. However, it has some interesting points that you can consider on your weight loss journey.
What is Dr. Now's diet?
Dr. Now's diet is a low-calorie, high-protein diet that is low in carbs and fat. Even though it is very hard to follow, it was prescribed to all the My 600-lb Life TV show participants. Here is why.
First of all, Dr. Nowzaradan wanted to decrease the risks during the surgery. To do so, he wanted his morbidly obese patients to lose 10% of their body weight on their own. The main goal of such a weight loss was to shrink the patients' liver to increase the security of the surgery. Low-calorie pre-surgery diets are often used by surgeons who provide bariatric surgery.
The second reason for such a restrictive diet was to ensure that the patients about to get the surgery were 100% committed. The thing is, the post-surgery diet is very restrictive too, and surgeons must be sure that their patients are able and willing to follow it.
When the stakes are that high, you can understand why Dr. Now was quite rough with those of his patients who didn't want to follow the diet.
But should you follow Dr. Now's diet? Check out its main principles to find it out. And remember that before trying any kind of severely restrictive diet, you should consult your health provider! Only your doctor can tell you if a particular diet is beneficial or harmful for your health.
The main principles of the 1200-calorie diet
According to Dr. Now's book, The Scale Does Not Lie, People Do, you should consider three main factors when trying to lose weight. They can be joined in the acronym FAT. "F" for frequency (of meals), "A" for the amount (of food), and "T" for type (of products). 
Frequency
Regarding the frequency of meals, Dr. Now had one and only recommendation to his patients: Avoid snacking. There should be only three square meals a day. Or even two, if this is more convenient to his patients.
Amount
As for the amount of food on your plate, Dr. Nowzaradan told his patients to have no more than 1200 calories a day. This is an extremely low number of calories, especially for someone who weighs about six hundred pounds.
Type
Type of food also matters a lot. To make a very low-calorie diet a bit more bearable, you have to pay attention to what you eat. Dr. Now asked his patients to focus on two main groups of food: lean protein sources and non-starchy vegetables.
Forbidden food
As in most cases, Dr. Now worked with people who struggled to control themselves around food, it was necessary to set strict rules about highly-palatable foods. This is a list of products Dr. Now's patients were not allowed to eat:
Sugar or sugary treats
Alcohol
Fruit juices and fruits with a high glycemic index (like bananas, watermelon, grapes, dried fruits, etc.)
Chocolate
Crackers
Popcorn
Pasta and noodles
Bread
Any kind of cereals
Nuts and nut butter
Sodas and sugary drinks
Sports shakes
Consumption of some foods had to be strongly limited. Dr. Now asked his patients to be careful with corn, dry beans, potatoes, sweet potatoes, and winter squash. These are starchy vegetables that should be avoided during the diet.
Dr. Nowzaradan 1200 diet plan example
Even though every patient had a customized meal plan, these plans were not specific. 
For example, a patient would get a list of lean protein sources. It can be poultry, fish, pork, veal, or lamb with fat trimmed. It can be steak, cutlet, rib chop, or flank steak. 
There will also be a list of vegetables, like carrots, broccoli, artichoke, asparagus, eggplant, mushroom, greens, spinach, tomato, cucumber, pea pods, zucchini, etc.
There will be oil sources stating that one portion of fat equals 8-10 olives, 10 peanuts, 1 teaspoon of olive oil, 1 tablespoon of low-fat mayo, 2 tablespoons of cream cheese, 1 slice of bacon, 2 tablespoons of sour cream, etc.
Here are several examples of high-volume, low-calorie meals you can get to fit in 1200 calories a day.
Day 1
Breakfast, 380 calories
Add 100 ml (3.5 oz) of skim milk to your coffee. 
Make a mousse with 200 g (7 oz) of fat-free cottage cheese and 200 g (7 oz) of fat-free yogurt. Add one pack of stevia and put 100 g (3.5 oz) of blueberries on top. 
Use a non-stick pan to make an omelet with 150 g (5.3 oz) of egg whites.
Lunch, 415 calories
Bake a 250 g (8.8 oz) beef steak. 
Boil 35 g (1.2 oz) of buckwheat (you will get about 100 g (3.5 oz) of porridge). 
Have 200 g (7 oz) of cucumber as a side dish.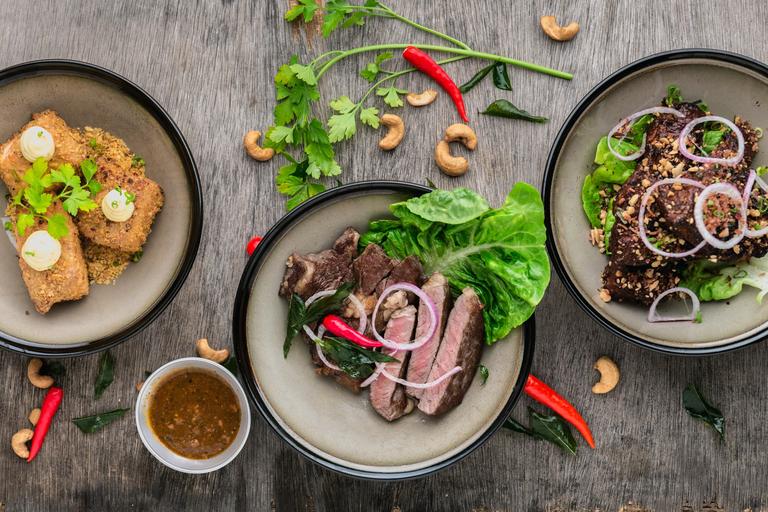 Dinner, 400 calories
Bake 200 g (7 oz) of tilapia with 150 g (5.3 oz) of asparagus. 
As a starter, have a salad with 200 g (7 oz) of cucumbers, 200 g (7 oz) of tomatoes, 20 g (0.7 oz) of feta cheese, and one teaspoon of olive oil.
1195 calories in total, 53% protein, 20% fat, and 27% carbs.
Day 2
Breakfast, 388 calories
Add 100 ml (3.5 oz) of skim milk to your coffee. 
Make yourself a vegetable omelet. Put 100 g (3.5 oz) of low-calorie sausages, 100 g (3.5 oz) of onions, 100 g (3.5 oz) of tomatoes, and 100 g (3.5 oz) of bell peppers onto a non-stick frying pan. Add some water for vegetables to get soft. When the veggies are ready, pour a mixture of one large egg with 100 g (3.5 oz) of egg whites into the pan. 
Lunch, 414 calories
Boil 250 g (8.8 oz) of shrimp. Drench them and add them to a salad of 200 g (7 oz) of leafy greens, 200 g (7 oz) of cucumbers, 200 g (7 oz) of tomatoes, and 50 g (1.7 oz) of mashed avocado. Don't forget to add your favorite seasonings and some lemon juice.
Dinner, 399 calories
Bake 150 g (5.3 oz) of chicken breasts. Cut them on thin slices and put them into salad leaves to make wraps. Add 40 g (1.4 oz) of grinned low-fat cheese to your wraps. 
Have 200 g (7 oz) of yogurt with 100 g (3.5 oz) of blackberry as a dessert.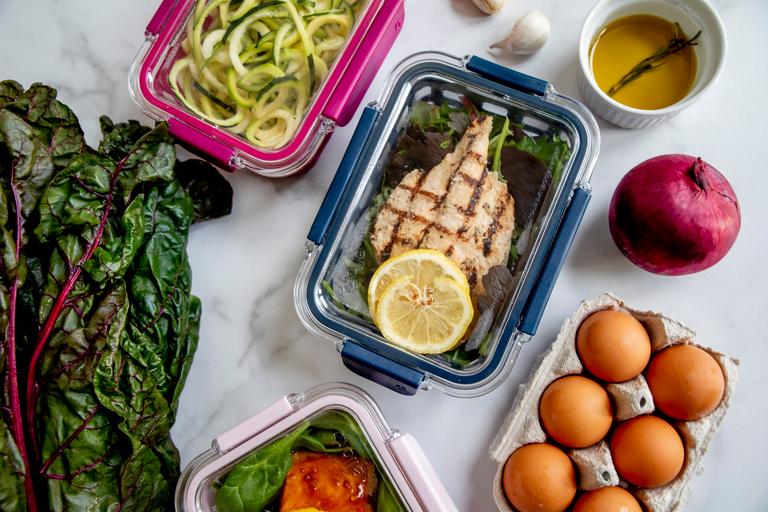 1201 calories in total, 51% protein, 26% fat, and 23% carbs.
Day 3
Breakfast, 395 calories
Add 100 ml (3.5 oz) of skim milk to your coffee. 
Boil 40 g (1.4 oz) of whole oats. Add some zero-calorie sweetener (like stevia) and 100 g (3.5 oz) of sliced apple when the porridge is ready.
Boil two large eggs to have on the side. 
Lunch, 407 calories
Mix 200 g (7 oz) of low-fat ground beef, 100 g (3.5 oz) of grated cabbage, 100 g (3.5 oz) of chopped onion, 100 g (3.5 oz) of grated carrot, and 60 g (2.1 oz) of egg whites. Add some salt and pepper. After mixing the products well, form small cutlets and put them on a baking tray. Bake for about 20 minutes on 340F / 170C.
Dinner, 398 calories
Bake 300 g (10.5 oz) of cod with 300 g (10.5 oz) of cauliflower. 
Make a low-calorie dressing by mixing 100 g (3.5 oz) of low-fat yogurt with 2 cloves of garlic, 30 g (1 oz) of dill, salt, and pepper.
1200 calories in total, 46% protein, 23% fat, and 31% carbs.
Disadvantages of the Dr. Now diet
We remind you that Dr. Nowzaradan's diet was developed for a particular type of individual, people who're going to have weight loss surgery. It is not for everyone, and it has a list of disadvantages. Here's what can happen if you follow this diet without prior consultation with your doctor.
High risks of gaining weight back. Overly restrictive diets often lead to weight regain1Greenway F. L. (2015, August). Physiological Adaptations to Weight Loss and Factors Favouring Weight Regain. International Journal of Obesity. DOI:10.1038/ijo.2015.59. This is explained by psychological and social factors, changes in the balance of hunger and satiety hormones2DeBenedictis J. N., Nymo S., Ollestad K. H., et al. (2020, April). Changes in the Homeostatic Appetite System After Weight Loss Reflect a Normalization Toward a Lower Body Weight. The Journal of Clinical Endocrinology and Metabolism. DOI:10.1210/clinem/dgaa202, and metabolic adaptation3Hall K. D. (2018, May). Metabolic Adaptations to Weight Loss. Obesity (Silver Spring). DOI:10.1002/oby.22189 to weight loss.
Micronutrient deficiency. Even though Dr. Now's diet emphasizes the quality of food you're eating, not only its quantity, it still can result in some vital vitamins and minerals deficiency4Engel M. G., Kern H. J., Brenna J. T., et al. (2018, January). Micronutrient Gaps in Three Commercial Weight-Loss Diet Plans. Nutrients. DOI:10.3390/nu10010108. This might happen simply because of the small variety of food one can eat on a restrictive low-calorie diet.
Microbiome changes. Studies5Seganfredo F. B., Blume C. A., Moehlecke M., et al. (2017, August). Weight-loss Interventions and Gut Microbiota Changes in Overweight and Obese Patients: A Systematic Review. Obesity Reviews. DOI:10.1111/obr.12541 show that severely restrictive diets and bariatric surgery reduce microbiome diversity and can drastically affect colon health. Of course, when we talk about morbidly obese patients, this is often a risk you have to face. However, if your goal is to lose ten to twenty pounds, you should know that there are other ways to lose weight without risking your health. 
Frequently asked questions about Dr. Now's diet
Who is Dr. Nowzaradan?
Younan Nowzaradan is a Huston-based Iranian-American surgeon. He is now 77 years old. He has started as a cardiologist but became very popular after the My 600-lb Life TV show. Dr. Now provided more than 2000 surgeries, including gastric bypass, gastric sleeve, and skin removal surgeries. In 2020, he left My 600-lb Life.
What diet does Dr. Nowzaradan recommend? 
Based on the online sources and Dr. Now's website, here are the main recommendations on the volume of various food groups that should be represented in a diet:
Grains: 6-7 oz for men and 5-6 oz for women.
Dairy: 3 cups daily.
Protein sources: 6-8 oz men and 4-6 oz for women.
Fats and oils: 7 teaspoons for women, 9 teaspoons for men.
Fiber: 25-35 grams for men and 20-25 grams for women.
Fruits and vegetables: 5-9 servings a day for men and women.
Daily salt consumption should be below 2300 mg.
There should be no sugar in your diet.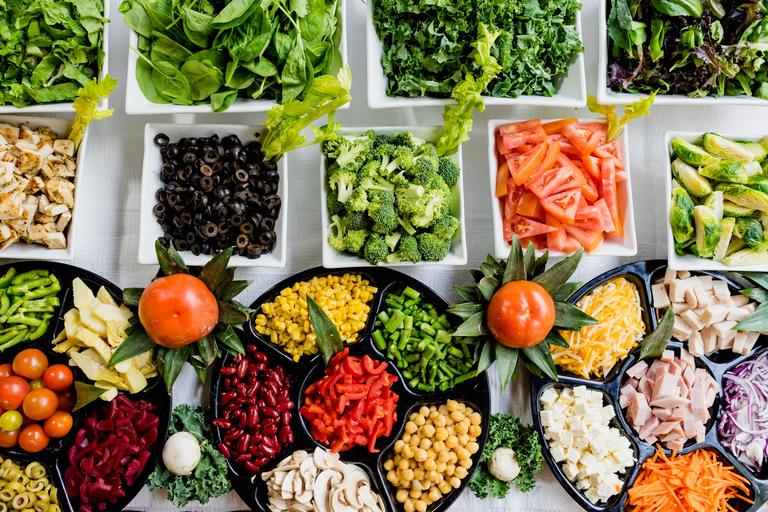 What diet does Dr. Nowzaradan use?
Dr. Now is using a low-calorie diet that is high in protein, low in fat, and low in carbohydrates.
What do 1200 calories look like?
1200 calories are not that much. However, if you get these calories from calorie-dense sources, you can make this diet even harder to follow.
For example, you can get your daily 1200 calories from McDonald's Double Cheeseburger, medium Fries, Baked Apple Pie, and Caramel Cappucino.
You can also get 1200 calories from half a pepperoni pizza and a pint of beer.
Or, you can follow Dr. Now recommendations and make lean protein and vegetables your primary sources of calories. By doing so, you will drastically increase the amount of food you can eat.
How much weight can I lose following the Dr. Now diet?
Anyone will lose weight on a 1200-calorie diet. For morbidly obese patients, the weight loss might be as tremendous as 50 pounds in one month. If you're overweight, you can expect to lose 5-10% of your body weight in a month following Dr. Now's diet.
Summing up
Dr. Nowzaradan's diet is very specific, and it's not for everyone. It is severely restrictive and should be used only if the health risks of staying obese are higher than the health risks of the diet itself.
The diet's macronutrient and food group composition is very effective and might be considered by people who try to boost their weight loss. 
The high percentage of protein in the diet provides higher satiety levels6

Paddon-Jones D., Westman E., Mattes R. D., et al.

(2008, May).

Protein, Weight Management, and Satiety. The American Journal of Clinical Nutrition.

DOI:10.1093/ajcn/87.5.1558S

.
A large amount of non-starchy vegetables is a guarantee that an individual will have voluminous meals. 
Sugar, alcohol, and processed foods restriction will help to refrain from highly-palatable, calorie-dense food that one can easily overeat. 
This kind of restrictive diet might be necessary for those about to get fat loss surgery, but it is surely not the first option for those who just want to lose several pounds before the vacation.
Article updated: July 12, 2022