5 Simple Facial Exercises Guide To Remove Face Fat
Usually, we try to remove fat from a belly part. Well, your face is also one of the areas of your body where you can gain weight. Unfortunately, getting rid of face fat is not easy. So, if you do not know how to reduce facial fat, you have come to the right place. Here are five easy exercises in your daily self-care ritual that can change how you look. Let your skin lift and muscles regain their tone. Get rid of face fat with minimum effort!
What are facial exercises
The human's face contains more than 50 muscles1L M Pereira, et al. (2011, July). Facial exercise therapy for facial palsy: systematic review and meta-analysis. Clinical rehabilitation. DOI:10.1177/0269215510395634. There is a sad fact that many of them are rarely used in the mimics. So, by regular exercising, you strengthen your face muscles and get rid of face fat. The magnificence of facial exercises is that you can create specific facial workouts that target the most problematic spots. These are a double chin, chubby cheeks, and sagging skin on the neck. An example of a simple exercise for losing face fat is folding the lips into a tube as if imitating a kiss! Unexpected, isn't it?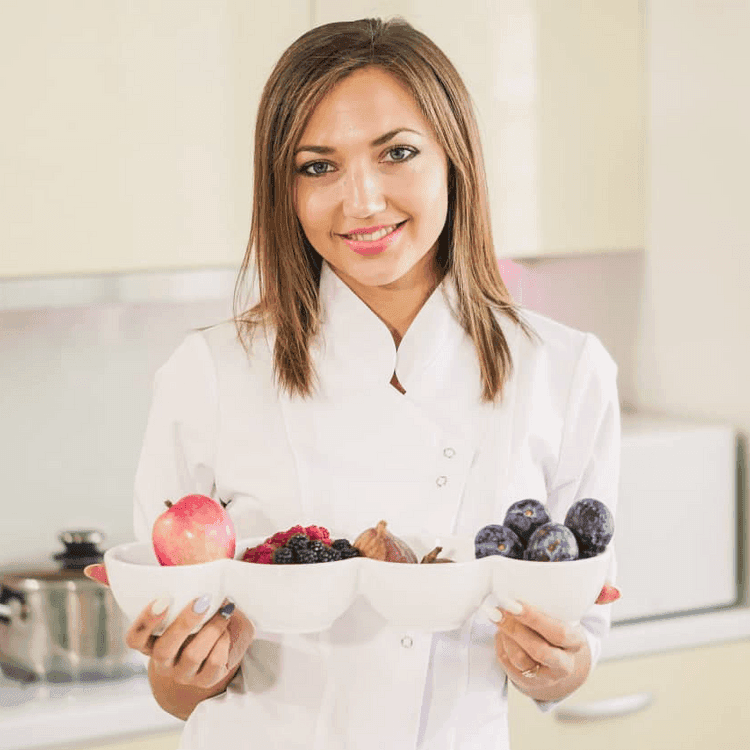 Useful advice
Ievgeniia Dobrynina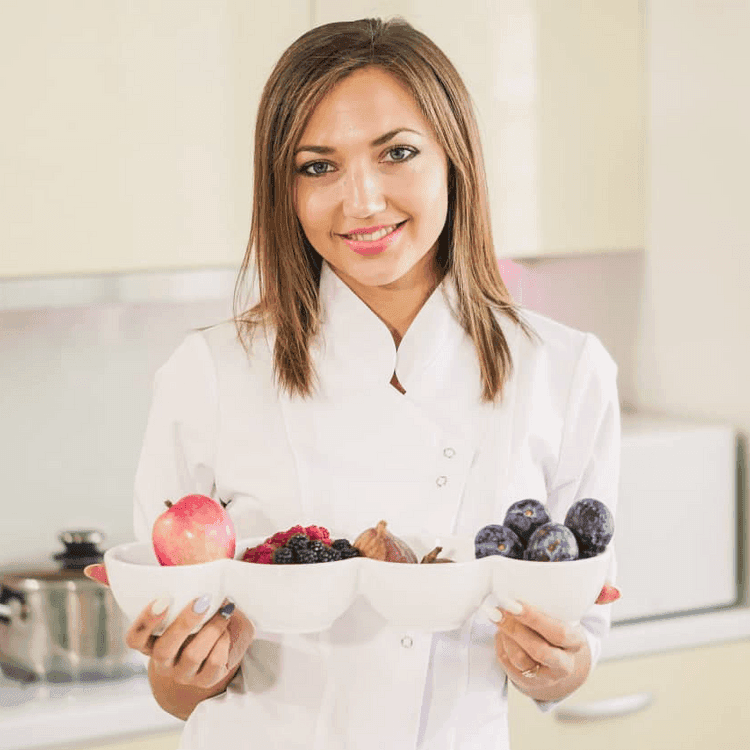 Ievgeniia Dobrynina is the Head of Nutrition and a fact checker at Unimeal.
, Head of Nutrition at Unimeal
Starting to discover the effective way to lose your face fat, make sure you obey the following rules. The first thing to remember is to perform a facial workout lying down or sitting straight. Experts confirm these positions to be the most effective. Then ensure your hands are clean, and only then touch the face if needed. Keep your hair off your forehead. You can use a special bandage for this purpose. Also, try to exercise every day at the exact time so that you won't skip it the next day. Don't pull the skin aggressively. Why so? It may highlight wrinkles! Combine facial exercises with cardio. It will give your complexion the most promising potential boost. Well, let's get started!
Easy and effective facial exercises
"Passionate kiss"
This exercise is like two plus two, easy to perform. Pull your lips forward if kissing your fluffy pet after a long trip. Repeat 15 times. Rest for 5 seconds.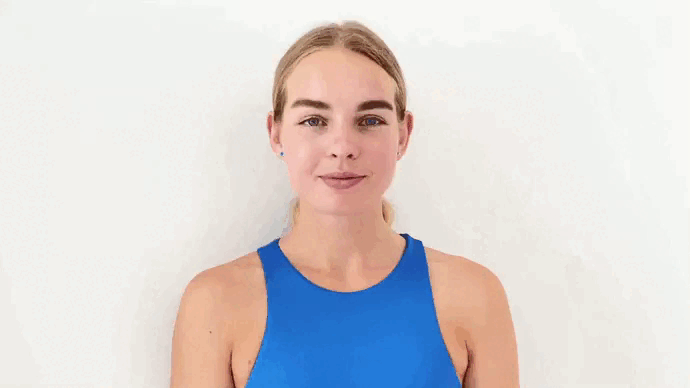 "Air balloon eater"
Blow air into your cheeks, letting them expand. Swish the air back and forth, from one side to another. Also, you can try an upgraded version of this exercise - bringing the air into your upper and lower lips or swishing the air around the mouth. Repeat 15 times. Let your face rest for 5 seconds.
 "Shy air balloon eater"
Let's continue lifting our cheekbone area. Swish the air in the mouth, putting your hand to the lips and trying to create resistance. Do it 15 times or until you get tired (it can be earlier than 15 times). Time to relax for 5 seconds.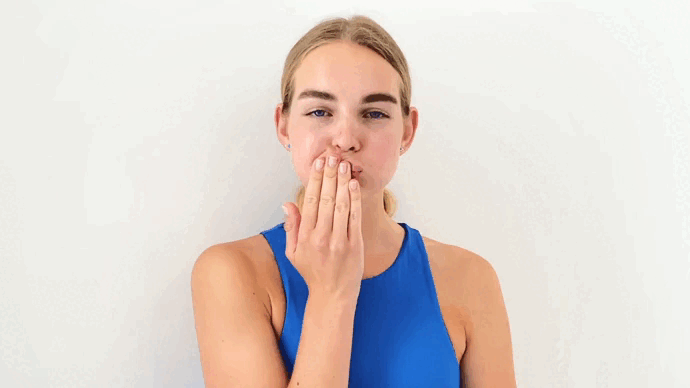 "Stars counter"
Now let's remember how we kissed our pet! Pull your lips forward, and at the same time, tilt your head back. Perform 15 such repetitions. Don't forget about the rest in 5 seconds.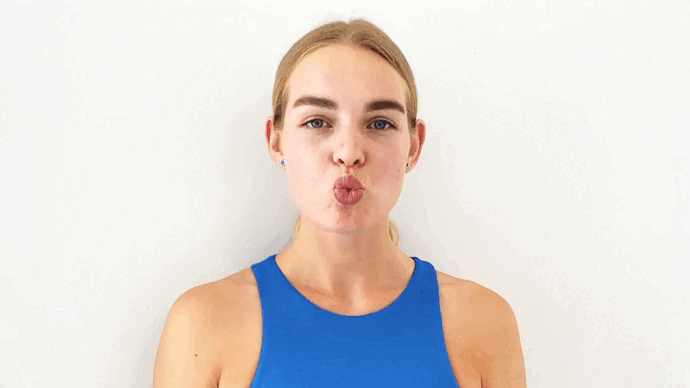 "Capricious lady"
Put your hands in the lock and pull in front of you. Pull the lips forward. Start turning the head to the side, simultaneously tilting it back. Do 15 repeats for each side.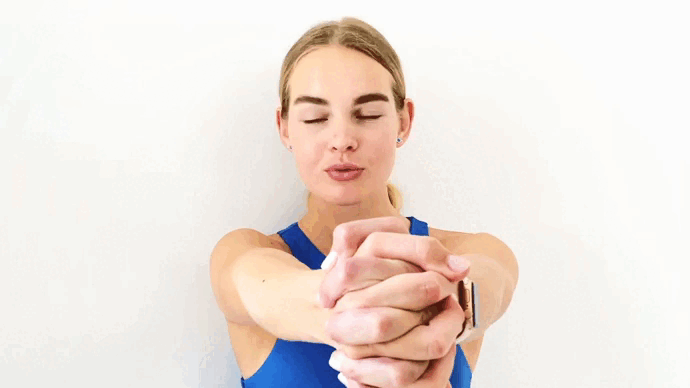 "Harmonious guru"
After intensive training for face fat loss, time to let your muscles relax and take a deep breath for about 1 minute. At the same time, think about how close you become to your dream with each exercise.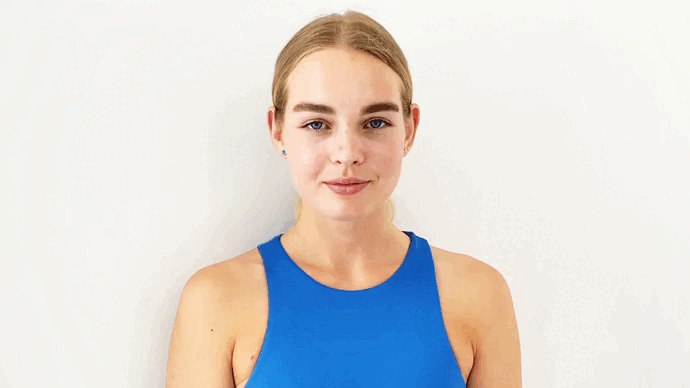 Do facial exercises actually work?
Yes, they do work. But there is one essential condition that is impossible to bypass. If there is an aim to achieve a visible result, follow the exercise regime regularly. Exercise for 15-20 minutes every day. It will be more than enough! You will notice the difference in a few weeks. Of course, not everyone can pay attention to the exercises due to the tight schedule. That's why we recommend splitting these 20 minutes for the whole day. Try a 10-minute facial in the morning before work. Another 10 minutes in the evening before bed2Kathleen H Miles, et al. (2018, April). Facial feature tracking: a psychophysiological measure to assess exercise intensity? Journal of sports sciences. DOI:10.1080/02640414.2017.1346275.
Face muscles demand the same job and attention you pay in the gym while training the whole body. Just follow the technique of exercises. By no means do they for too long. Otherwise, you can stretch the skin and achieve the opposite effect. So, follow this easy guide to get rid of fat with pleasure.
Eat tasty food and lose weight with Unimeal app!
Take a Quiz – Get personal meal plan – Achieve your weight goals!
Start Quiz
The bottom line
Facial workouts aim at the double chin, neck, and chubby cheeks fat loss. During such gymnastics, the facial muscles are activated, blood flow improves, excess fluid leaves the lymph, and collagen and elastin are produced, increasing skin turgor. It is how the facial rejuvenation that everyone dreams of happens! And the main thing here is the systematic and strict adherence to the rules described in the methodology. By the way, no cost! Except for muscle!