7-Day Meal Prep for Weight Loss
Imagine that the problem of cooking dishes for a whole week could be solved in just 3 hours. Sounds like a fantasy? There is nothing impossible in prepping 7 days at a time. You just need to create a menu and devise a plan to optimize the cooking process. Here we've rounded up a whole week's meal prep menu for shedding your pounds!
What is meal prep and how to start?
Meal prepping is the practice of preparing entire meals or dishes in advance. It is a go-to choice among busy people since it may save a significant amount of time.
Eat tasty food and lose weight with Unimeal app!
Take a Quiz – Get personal meal plan – Achieve your weight goals!
Start Quiz
It is not very difficult to practice meal prepping. This will require only a few hours or even minutes (depending on how many days the prepping will be). In return, you will get a lot of free time during the week.
There are several options to try for beginners, starting with meal prepping. Firstly, you can make batches for months. You can freeze them and store them as long as needed and possible. Some foods are very long-lasting and can be reheated without losing essential vitamins and minerals.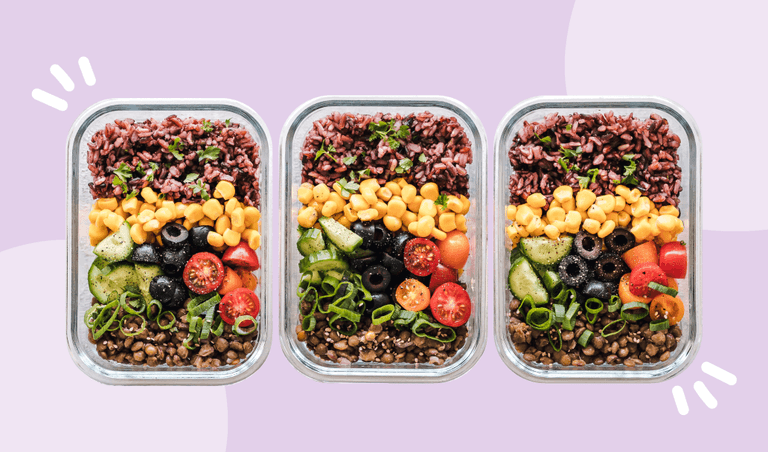 The second idea you can take into service is ready-to-cook ingredients. For example, if you have already prepared all the ingredients for the salad, you can finish cooking at any time. Then it will not spoil too fast, and you can quickly mix all the ingredients as soon as you want to have a snack.
The last lifehack that is working well for meal prepping is portioning. Making sandwiches for a husband, a fruit bowl for your kid, or a make-ahead microwave breakfast scramble for yourself, try to guess what serving size is best for each family member and you personally. This is one of the main meal prepping techniques that will save you time and food.
Summary: Meal prep is a must-try practice for those with little free time. If you're a newbie in meal prepping, the best ways to start are meal-ahead batches, ready-to-cook ingredients, and portioning.
Tips on how to make meal preps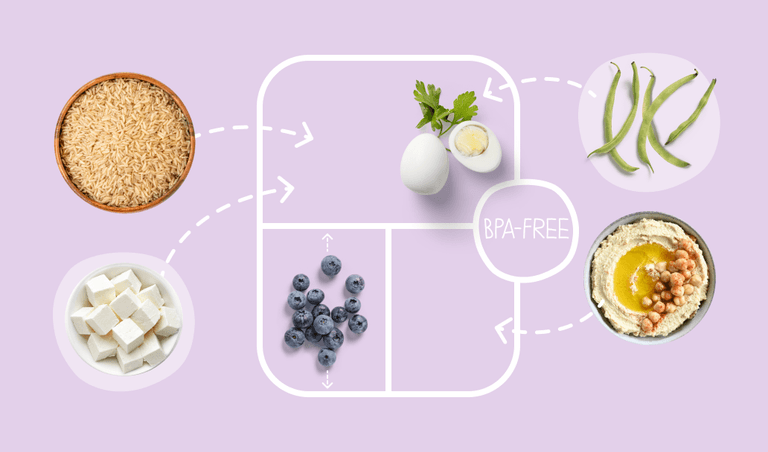 Now, you're on a multi-hour run to stock up on food for one or more weeks. This means you also need to think about how to do it efficiently and thoughtfully.
Before you start cooking, prepare and lay out all the food and utensils on the table. This minimizes your movement around the kitchen and allows you to concentrate on meal prepping.
Make a plan of what you will cook (below, you will find a ready-made meal plan for the week) and in what order. The first time it will take a little longer, but after a few weeks, you will begin to do it in the blink of an eye.
Pick the food that can be easily reheated. It is unlikely that you will be able to cram cold food into your stomach. So, take care of it in advance.
Pick the proper storage containers. Airtight and compartmentalized containers are the best choice for storing food. Also, you can check if they're BPA-free to heat meal preps in the microwave without negative consequences. 
Always leave 2-3 cm free space when filling the container. Frozen food will expand during the day and fill the free space.
Refrigerate fresh products within two hours after buying or preparing. Spread dishes in shallow containers and immediately store them in the refrigerator to save all nutrients1

J. A. Painter, R. M. Hoekstra, T. Ayers, et al.

(2013, March).

Attribution of foodborne illnesses, hospitalizations, and deaths to food commodities by using outbreak data. Emerging Infectious Diseases.

DOI:10.3201/eid1903.111866

.
Do not reheat food multiple times. It can not only lose useful properties but also become poisoned2

E. Scallan, P. M. Griffin, F. J. Angulo, et al.

(2011, January).

Foodborne illness acquired in the United States - unspecified agents.

Emerging Infectious Diseases. Retrieved from https://pubmed.ncbi.nlm.nih.gov/21192849/.
Consume foods within the appropriate time frame: 3-4 days for refrigerated food, 3-6 months for frozen meals3

Food Safety and Inspection Service.

(2022).

Food Safety in The Great Outdoors.

U. S. Department of Agriculture. Retrieved from https://www.fsis.usda.gov/.
How to manage my meals to lose weight?
Eating modest meals on a regular basis is always a smart idea. If you wait too long between meals, you will overeat later. Try not to overload your menu and combine full meals with snacks from nuts and fruits. 
Also, remember about scheduling the main courses: allocate cooking time efficiently so that you always eat at the same time. Start with the dish that requires the most cooking time. This is frequently a soup or oven dish. Concentrate on the rest after the food is ready.
How long does meal prep take?
This depends on how many meals you're preparing at once and how complex each dish is. A week's worth of meals normally takes between 30 minutes and 4 hours to prepare.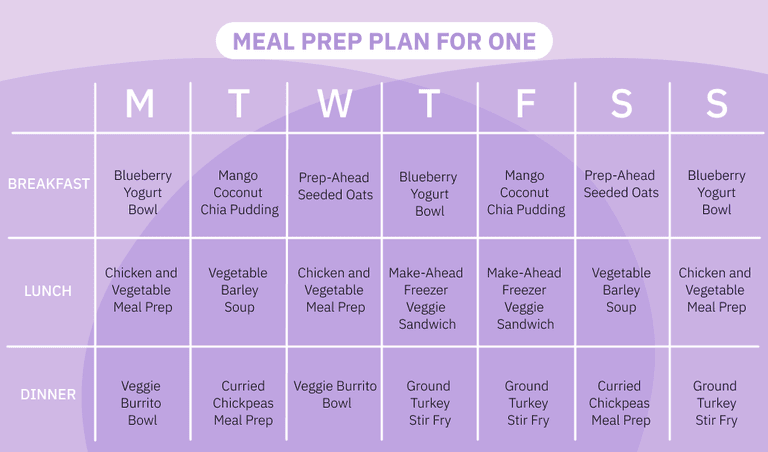 Healthy week meal prep plan for weight loss
Searching for ready-made meal prep recipe ideas can take a lot of time, which we are just trying to save. We have prepared a full-week meal plan for healthy and cheap meal prepping to make your life easier.
Breakfast
Blueberry Yogurt Bowl (Monday, Thursday, Saturday)
Blueberry yogurt bowls are tasty and low-calorie dishes. And they are lined up nicely right now! Not to mention how simple they are to make!?
Ingredients: Greek yogurt, blueberries, honey, High Protein Bars (optional).
Kcal: 450.
Mango Coconut Chia Pudding (Tuesday & Friday)
Mango and chia seeds are fantastic products with many beneficial elements affecting human health. In the form of a light pudding, they are excellent for normalizing metabolism and weight loss.
Ingredients: light coconut milk, chia seeds, maple syrup, mango, toasted coconut flakes.
Kcal: 330.
Prep-Ahead Seeded Oats (Wednesday & Sunday)
The bowl of oats is a highly flexible and easy-to-make meal. Depending on your preferences and available products, you can mix different seeds, nuts, and add-ins.
Ingredients: rolled oats, ground flaxseed, hulled hemp seeds, chia seeds, cinnamon, salt, milk, or non-dairy milk.
Kcal: 300.
Lunch
Chicken and Vegetable Meal Prep (Monday & Sunday)
The chicken diet is not a myth but one of the easiest ways to lose weight. Lean meats and vegetables are the perfect combinations for low-calorie meal prep.
Ingredients: brussels sprouts, potato, pepper, chicken breast, smoked paprika, sweet paprika.
Kcal: 460.
Vegetable Barley Soup (Tuesday & Saturday)
But do not forget about hot dishes! The body quickly absorbs the soup, warms nicely in the cold, and improves digestion.
Ingredients:  yellow onion, olive oil, carrots, diced tomatoes, barley, dried basil, dried oregano, potato, frozen green beans, corn, peas, and fresh parsley.
Kcal: 280.
Make-Ahead Freezer Veggie Sandwich (Wednesday, Thursday, Friday)
A vegetable sandwich is a perfect snack for those who try to lose weight. Unlike fatty and unhealthy sandwiches with sausage and cheese, veggie sandwiches will not only satisfy your hunger but will also saturate you with vitamins, minerals, and fiber without extra calories.
Ingredients: olive oil, onion, red bell pepper, spinach, salt and pepper, eggs, milk, cheddar cheese, sliced English muffins.
Kcal: 350.
Dinner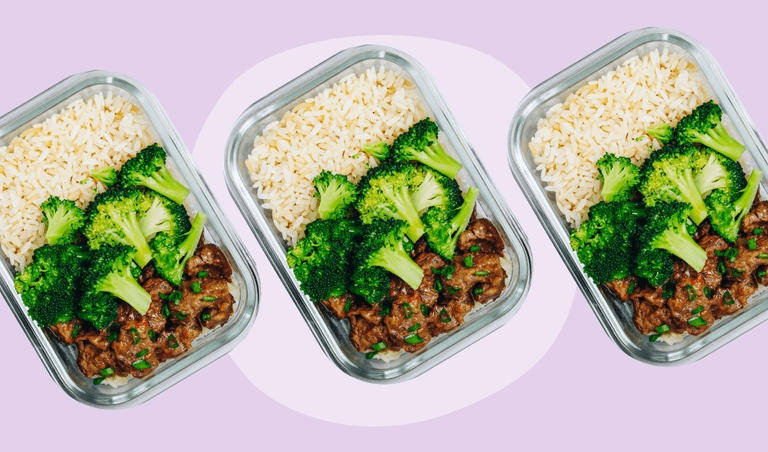 Veggie Burrito Bowl (Monday & Wednesday)
These quick and simple vegetarian bowls may be on your plate in less time than it takes to travel to your favorite taco spot!
Ingredients: olive oil, basmati rice, salt, garlic, black beans, chili powder, cumin, avocado, lime juice, frozen corn kernels, cherry tomatoes, sour cream, shredded Cheddar, and cilantro leaves.
Kcal: 470.
Curried Chickpeas Meal Prep (Tuesday & Saturday)
Serve this meal as a part of Indian cuisine and a healthy bit of your meal prepping!
Ingredients: avocado oil, garlic, large onion, chickpeas, curry, cumin, cinnamon, tomato paste, salt, pepper, fresh cilantro, chopped green onion, and cooked brown or white rice.
Kcal: 450.
Ground Turkey Stir Fry (Thursday, Friday, Sunday)
This easy ground turkey stir fry can be your favorite dinner option with minimal effort on your part!
Ingredients:  bell peppers, green onions, spinach, cooking oil, garlic, ground turkey, soy sauce, toasted sesame oil, brown sugar, red pepper flakes.
Kcal: 470.
Best meal plans for weight loss
If you've wanted to slim down fast yet still feel satisfied, try one of the following healthy meal plans created for particular diet needs.
No-Sugar Diet - if you want to limit sugar consumption, improve your skin condition, and lose some pounds.
Clean Eating Meal Plan - for cooking low-calorie processed food, adding protein and trace elements to your diet, and consuming more natural and whole foods. 
High Protein Diet Plan - to reduce appetite and quickly lose water weight.
1500 Calorie Meal Plan - to cut down pounds and create for your body a well-balanced ratio of protein, fats, and carbs.
Takeaway
Cooking food can be no longer the everyday torture. And you already know why! Meal prepping is a time saver for every busy individual. Handy meals, grab-and-go portions, and make-ahead dishes do their job!
Meal prep is the greatest way not only to manage your cooking but also to control your diet. Since it requires you to decide what to eat ahead of time, meal planning can lead to more healthful meal choices in the long run.
Still not sure? Follow our recommendations and make meal prepping for the week a breeze!