Celery Leaves: Why You Should Add Celery Greens Into Your Diet
Celery is a superfood that has been around for centuries. It's not just a delicious and crunchy snack but also has some serious nutritional benefits. But did you know that you can enjoy these nutritional benefits by adding celery leaves to your dishes?
Celery leaves are the green part of the celery plant, the part that grows above ground. They're usually bright green, but they can be purple if the plant is exposed to frost or is old. They're tender and have a mild flavor, similar to celery stalks.
One of our favorite things about cooking with celery leaves is that there are so many different ways to use them! You can add them raw in salads or sandwiches, use them as a garnish on soups or salads (or even smoothies), or cook with them using any method like steaming or sautéing.
Read on to learn more about why celery leaves are good for you, what you can do with them and why you should add them to your life.
Eat tasty food and lose weight with Unimeal app!
Take a Quiz – Get personal meal plan – Achieve your weight goals!
Start Quiz
Types of celery leaves
There are three types of celery leaves, each with its unique flavor and culinary applications.
The flat celery leaf is the most common type, and it's also the most versatile. You can use it in place of parsley in any recipe that calls for it.
The serrated celery leaf has a flavor similar to celery root but with more depth. It's great for soups and stews, especially if you have an abundance of them from your garden.
Finally, there's crinkled celery leaf, often used as a garnish for salads or other dishes where its appearance is important. It's milder than both flat and serrated leaves, so it pairs well with bolder flavors like cheese or balsamic vinegar.
Nutrition 
Celery is a delicious, crunchy vegetable with many health benefits. It's low in calories and contains lots of vitamins and minerals.
A cup of chopped celery (101 g) contains4FDC. (2019, Jan). Celery, Raw. Food Data Central. Retrieved from https://fdc.nal.usda.gov/fdc-app.html#/food-details/169988/nutrients:
Calories: 14 
Protein: 0.69 g
Fat: 0.17 g
Carbohydrates: 3 g
Fiber: 1.6 grams
Sugar: 1.35 g 
Vitamin C: 3.1 mg
Magnesium: 11  mg
Phosphorus: 24 mg
Potassium: 260 mg
Benefits of eating celery leaves
Improve digestion
Celery leaves contain a compound called apigenin, which increases gastric acid secretion, reduces stomach ulcers, and relieves indigestion1M. Wang., et al. (2017, Aug). Apigenin Impacts the growth of the gut microbiota and alters the gene expression of enterococcus. Molecules. DOI:10.3390/molecules22081292 You can add celery leaf extract to your tea or juice or eat the leaves raw in salads or sandwiches.
Reduces inflammation 
Celery leaves are known for their anti-inflammatory properties2W. Kooti, N. Daraei. (2017, July). A review of the antioxidant activity of celery (Apium graveolens L). J Evid Based Complementary Altern Med. DOI:10.1177/2156587217717415. This helps reduce pain and swelling by controlling the release of chemicals in the body that cause inflammation, which is a process that occurs in the body when tissues are damaged or infected to protect, repair, and heal the body. Therefore, celery leaves can be helpful in treating arthritis pain because it reduces inflammation in joints and other joint problems.
It may reduce cancer risk 
Celery leaves contain phytochemicals such as flavonols, phenolic acids, and antioxidants3N. Hedayati., et al. (2019, Dec). Beneficial effects of celery (Apium graveolens) on metabolic syndrome: A review of the existing evidences. Phytother Res . DOI:10.1002/ptr.6492 that may help reduce the risk of cancer. Antioxidants help prevent cell damage from free radicals in the body, which can lead to various health problems such as heart disease or cancer. One study demonstrated that celery leaves contain a compound called apigenin that can inhibit tumor growth in mice being treated for prostate cancer7B. Sung, H. Y. Chung, N. D. Kim. (2016, Dec). Role of apigenin in cancer prevention via the induction of apoptosis and autophagy. J Cancer Prev. DOI:10.15430/JCP.2016.21.4.216.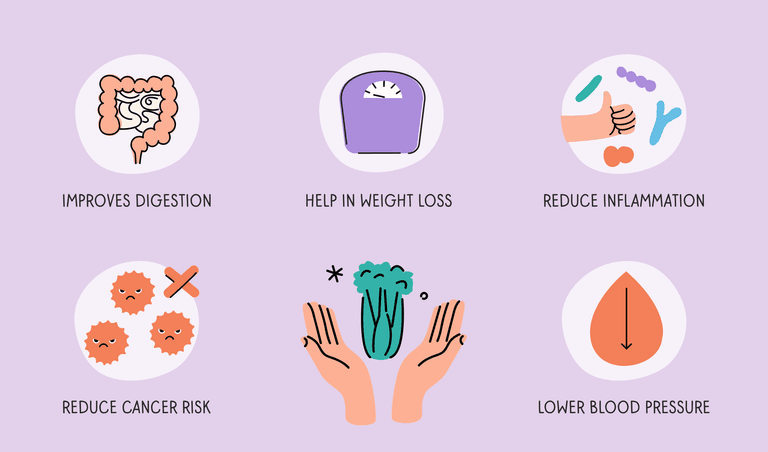 It may lower blood pressure 
Celery leaves are rich in luteolin and apigenin, two compounds that inhibit angiotensin-converting enzyme (ACE)6L. Guerrero., et al. (2012). Inhibition of angiotensin-converting enzyme activity by flavonoids: Structure-activity relationship studies. PLoS One. DOI:10.1371/journal.pone.0049493 and prevent hypertension. In addition to their antihypertensive effect, celery leaves have been shown to reduce inflammation and improve cardiovascular health by lowering cholesterol levels and improving blood flow.
It may help in weight loss 
Celery leaves contain fiber which helps keep your bowels healthy while also helping you feel full longer, so you eat less overall (especially unhealthy foods like chips or cookies). Eating more vegetables instead of junk food daily can lead to weight loss.
It may help with asthma symptoms
Celery leaves have been shown5B. Hosseini, B. S. Berthon, P. Wark, L. G. Wood. (2017, April). Effects of fruit and vegetable consumption on risk of asthma, wheezing and immune responses: A systematic review and meta-analysis. Nutrients. DOI:10.3390/nu9040341 to reduce asthma symptoms, including wheezing, coughing, and shortness of breath. Celery is an anti-inflammatory food with many antioxidants that can help treat asthma by reducing inflammation in the body.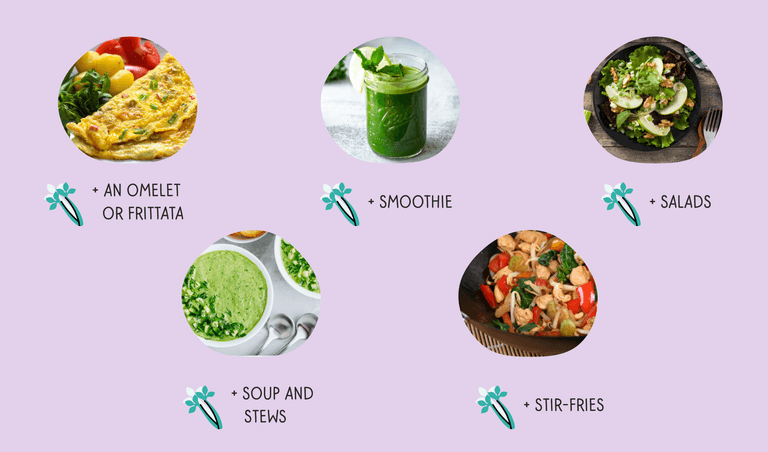 Uses 
So you've got your celery and are ready to make a delicious recipe. But what do you do with those pesky leaves?
1. Celery leaves are a good addition to salads
Shredded or chopped finely, celery leaves add a refreshing crunch that contrasts nicely with soft lettuce or other salad ingredients like tomatoes, cucumbers, or even avocados. Just ensure not to overdo it, too many leaves will make for a bitter salad experience.
2. Add them to other vegetables
Celery leaves are also great for steaming vegetables such as broccoli, cauliflower, carrots, or any other vegetable that could use a bit of flavor from the earthy celery leaf. Steaming the celery leaves with the vegetables will help bring out their natural flavor and make them taste even better.
3. Use them as a garnish for soup or stews
Celery leaves can be used as a garnish for soups or stews. Just chop them up into small pieces and sprinkle them on top of any soup or stew dish for a tasty burst of flavor.
4. Add them to an omelet or frittata
Celery leaves are a great addition to eggs, whether you're making an omelet or a frittata. They add a flavor that's more herbaceous than celery stalk and more delicate than celery root. Add them to your egg mixture just before you put it in the pan, so they don't get too soft.
5. Add them to your smoothie
 Celery leaves are rich in vitamins A and C, so if you like adding spinach to your smoothie, try adding some celery leaves instead. They'll add extra nutrients without changing the flavor too much.
6.  Add them to stir-fries
Celery leaves can be used as an alternative to regular herbs in Asian stir-fries because they have a similar flavor profile (they taste like pepper), but they contain less sodium than salt, so they won't season the dish too heavily (if you use too much salt at once it can make you thirsty).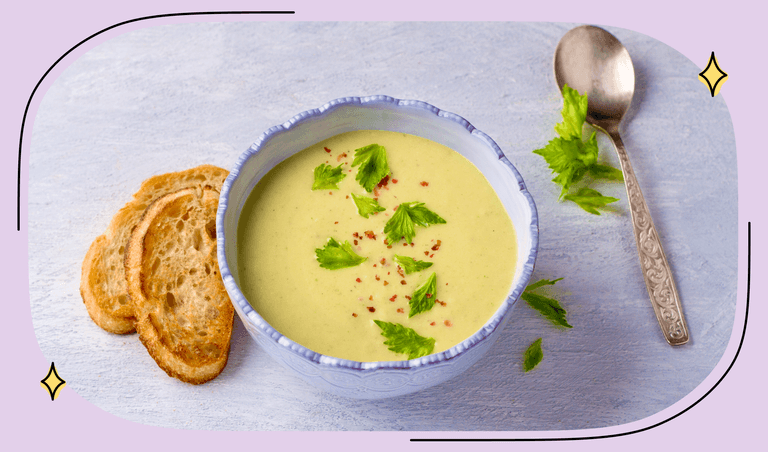 Eat tasty food and lose weight with Unimeal app!
Take a Quiz – Get personal meal plan – Achieve your weight goals!
Start Quiz
Recipe: Soup with celery leaves 
Celery leaves make a delicious soup.
Ingredients:
4 celery stalks, including leaves
1 tablespoon butter
1/2 cup onion, diced
3 cloves garlic, minced
1 teaspoon salt
1/2 teaspoon black pepper (optional)
Directions:
1. Cut the tops off of your celery stalks and reserve them for another use (like stock). Discard the bottom halves of the stalks or save them for another use (like stock). Chop up your celery leaves and set them aside for later. You'll need about 2 cups worth of celery leaves.
2. Melt your butter in a large pot over medium heat. Add in your onions and cook until they're translucent about 5 minutes. Add in your garlic and continue to cook for another 2 minutes, until fragrant. Add in your chopped-up stalks and saute for another 10 minutes or so, stirring occasionally to prevent burning or sticking to the bottom of the pan. Turn off the heat when everything has softened nicely and smells amazing.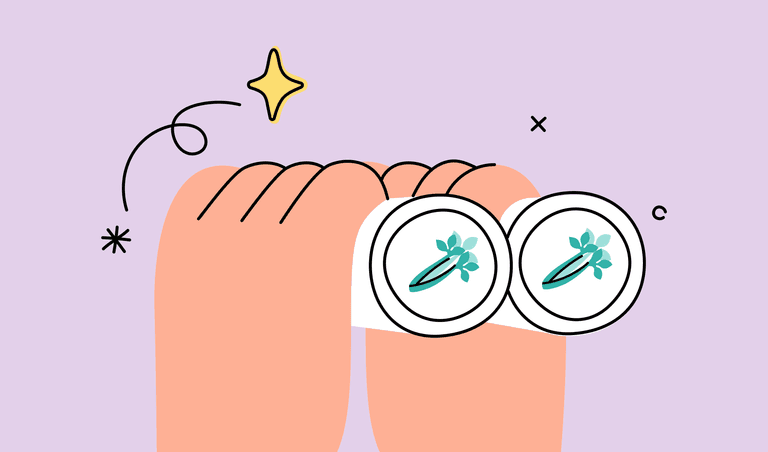 What to do with celery greens to make them taste good 
Celery greens have a lot of potential. They're not just for garnishing salads, they can be an ingredient in soups, sauces, and even desserts. Here are some ways to make celery greens taste good.
1. Try sautéing them in olive oil and garlic, then adding a splash of lemon juice and salt to taste.
2. Or try roasting them with olive oil and salt, then tossing them with goat cheese or pine nuts and a squeeze of lemon juice before serving.
3. Chop up the leaves and add them to a stir fry or pasta dish, or use them as a base for a soup or stew, they'll add extra zest.
4. Use the leaves as the base for an herb salad, they're great paired with other strong flavors like fresh basil leaves, mint leaves, rosemary sprigs, or kale chips.
5. Celery greens are also great with parmesan cheese and garlic. Toss them in a hot pan with olive oil and garlic, then add parmesan cheese when they're almost done.
Substitute for celery leaves 
Celery leaves are great for adding flavor to soups and stews, but they're also a little hard to find. Here are some substitutes you can use in their place.
Parsley leaves: If you don't have celery, try parsley instead! It has a similar texture and taste when cooked, and it's much easier to find at your local grocery store. 
Cilantro leaves: You can use cilantro instead of celery if you don't have any of the green stuff on hand, but I'd recommend adding it in at the end, so it doesn't get mushy (like parsley).
Dill leaves: Dill has a milder flavor than celery and makes a great substitute if you don't want to overpower your dish with an overwhelming flavor profile.
Fennel tops: The fennel tops add the same bright and refreshing taste as celery leaves, but with a more pronounced anise flavor that's perfect for French onion soup or any broth-based dish.
Basil: Basil has an earthy flavor that's slightly bitter but also sweet and peppery at the same time! It's perfect for dishes where you need something with some bite but not overpowering, it will add just enough contrast to keep things interesting.
Mint: Mint is another option for adding freshness to soups and stews without having to buy extra produce or hunt down those elusive celery leaves, and it adds an extra bit of zing to your dish.
FAQ
Is it safe to eat celery leaves?
Yes! The leaves of celery are delicious and healthy. They're rich in vitamins and minerals like vitamin A, calcium, and iron. The leaves can be eaten raw or cooked, but they have a stronger flavor than the stalks.
How to dry celery leaves?
It's best to dry your celery leaves in the sun or by hanging them in a warm place, and they'll dry out within a week or two. You can also use your oven on its lowest setting with the door open until they're dried out enough for you. If you're using a dehydrator or oven, it's best to chop the leaves into small pieces first so they'll dry faster.
Can you juice celery leaves?
Yes, you can! If your juicer is equipped with a "soft fruit" or "vegetable dry" setting, you can juice the leaves and stems. If you don't have one of these settings, you can still juice them by using a nut milk bag to strain out the pulp.
Can you freeze celery leaves?
Yes! If you're making a soup or stew that calls for fresh celery, try adding some frozen celery leaves instead. The texture will be slightly different than what you'd get from fresh, but the flavor will still taste great.
How to store celery leaves?
The best way to store celery leaves is to wrap them in a damp paper towel and place them in the fridge. The leaves should be used within a few days, but you can also freeze them for longer storage. If you plan on freezing them, use an airtight container with a lid and freeze them flat so they don't stick together.
Eat tasty food and lose weight with Unimeal app!
Take a Quiz – Get personal meal plan – Achieve your weight goals!
Start Quiz
Conclusion 
Celery leaves are edible, delicious, and a great way to add extra nutrients to your diet. They're super versatile and can be added to any meal. You can use celery leaves in stir-fries, salads, soups, and stews. So next time you're making a salad, give the celery leaves a try! And if you've got some dehydrated celery leaves lying around, throw them in a soup or stew for extra flavor.