All About Moringa: Benefits, Risks, Dosage
Moringa oleifera is also known as the drumstick, the miracle tree, the horseradish tree, or the ben oil tree. What does moringa taste and smell like? Let's find out why this plant with a strange name has recently become a popular superfood!
What is moringa
Moringa oleifera is a fairly large tree native to North India. It's widely popular in Western medicine due to its tremendous nutritional value. According to WebMD, moringa is a source of:
Eat tasty food and lose weight with Unimeal app!
Take a Quiz – Get personal meal plan – Achieve your weight goals!
Start Quiz
 vitamins B1, B2, B3, B6, and C;
 Calcium, Iron, Magnesium;
 Potassium, Zinc, and Amino acids.
100 grams of moringa leaf powder contains 375 calories. It sounds a lot for those who follow the weight loss diet. But ingredients close-up shows that it is suitable for weight loss as well: 50 g of carbs, 25 g of protein, 25 g of fiber and 0 fat.
10 health benefits by scientific research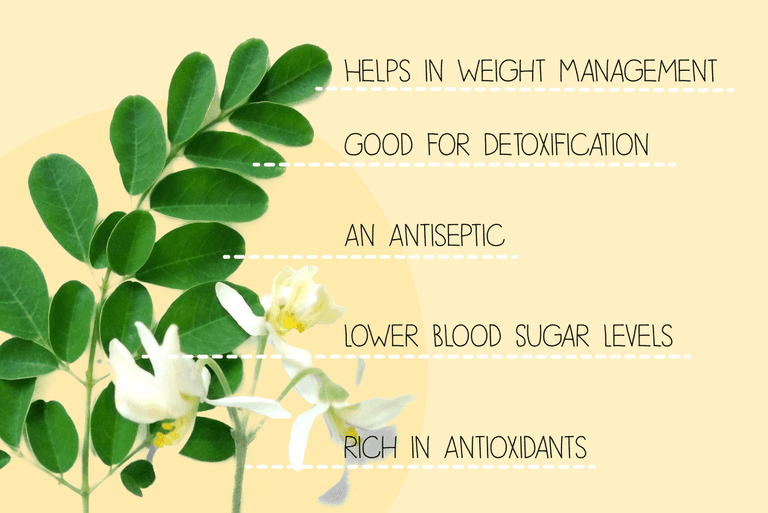 If you've read Unimeals' previous articles about chia and fennel seeds, you'll notice that moringa's health benefits are similar. Moringa positively influences the digestion system and has an anti-inflammatory effect on the organism and blood pressure control. But that's not all! Here are more benefits of the moringa plant,, :
 helps in weight management
 causes a good effect on the nervous system
 is good for detoxification
 improves lactation
 is an antiseptic
 protects and nourishing skin and hair
 treats mood disorders
 lowers cholesterol
 is rich in antioxidants
 prevents cancer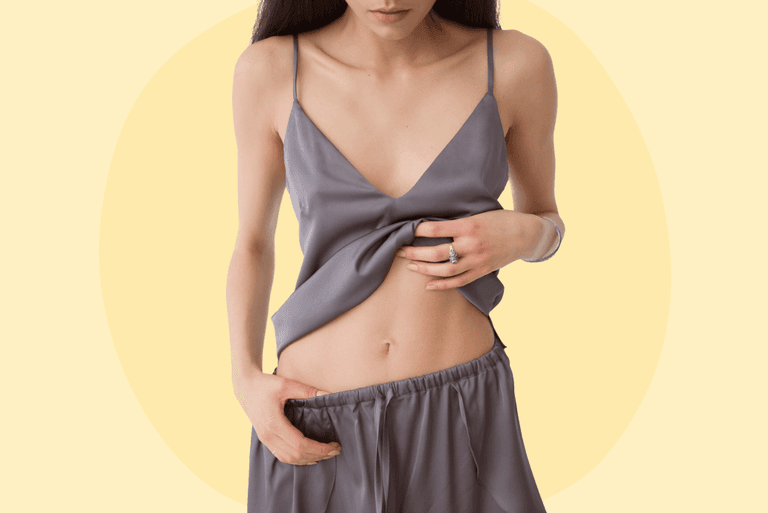 Moringa is used to cure
Anemia. The plant's iron helps your body absorb more iron, which sets it apart from other iron supplements. This process results in how you feel. You will forget about fatigue and energy decrease.
Asthma attacks will also rarely disturb after moringa intake. Moreover, the herb improves lung function and overall breathing.
People suffering from kidney, bladder, or uterus stones are recommended to ingest moringa extract. The herb's antioxidants aid toxicity levels in the organs mentioned. And not only. Moringa can prevent the thickening of capillary membranes and inhibit retinal dysfunction.
Best ways to use moringa daily (how to eat)
Almost all tree parts are eaten or used as ingredients in conventional herbal medicines. This especially applies to the leaves and pods. But also, you can find the plant in the following forms.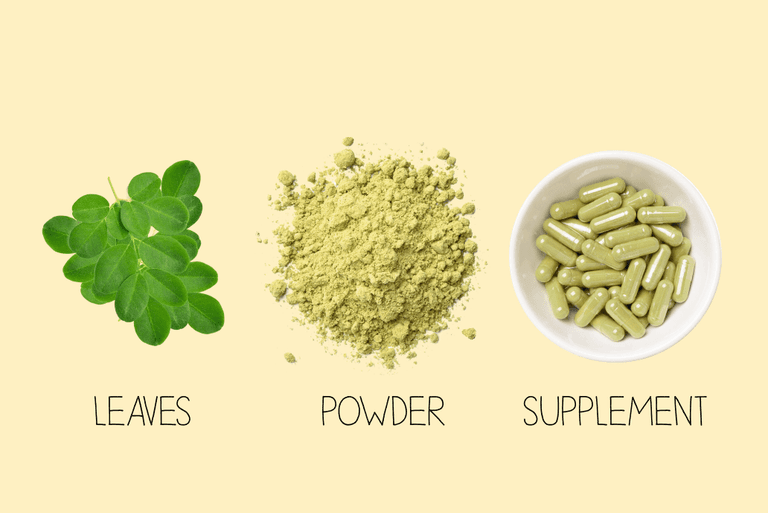 Moringa supplement
Adults most often use moringa's leaves and seeds in powders. The intake doses fluctuate from 6 to 10 grams by mouth daily. But before you decide to try it, consult with a doctor. He'll determine what dose is most suitable for you.
Moringa leaves
Moringa leaves possess sleep-improving effects. Just steep the leaves in hot water for about 10-15 minutes. Drink before going to bed, and you'll sleep like a baby! The morning after promises to be full of beans. The leaves can also be cooked and used like spinach or dried and powdered as a meal condiment.
Moringa powder
Health&fitness bloggers often talk about "moringa powder", "powder for health boost". There are a lot of posts in socials with the same name tags. Moringa powder has a slightly sweet and bitter taste. That's why it becomes a good additive to yogurts, shakes, and smoothies. It can boost your daily nutritional intake. Dieticians recommend serving sizes of moringa powder range from 2–6 grams.
Moringa pills
The pill form of moringa leaves contains crushed leaf powder or its extract. It's best to choose supplements containing leaf extract. The extraction process enhances the bioavailability or absorption of the leaf's wholesome microelements. You can find out by reading the supplement facts label, stating whether the product contains the powdered leaf or extract form.
Moringa tea
It's naturally caffeine-free. You can sip it as a relaxing herb beverage late in the evening before rest. If desired, herbs and spices — such as lemon, cinnamon, and basil — can help balance the slightly earthy flavor of pure moringa leaf tea.
Moringa oil
The oil extracted from this plant has antimicrobial, antibacterial, antioxidant, antifungal, and anti-aging properties. Beautyholics must add moringa oil to their beauty routine! It aids numerous skin problems, including the effects of aging like wrinkles, dull and lifeless skin.
Moringa seeds
Fresh raw seeds have a tender texture. But they become hard and resemble small beans as soon as they get dried. The seeds are grayish-white with unique wing-like forms. They can be boiled, steamed, or roasted for various dishes.
Moringa dosage
Moringa can be a great natural supplement in your diet at 2 to 6 grams daily in any of its forms. Still, consult with a doctor before adding the supplement to your menu. Scientists continue to research the risks and full health benefits of moringa.
How long does it take for moringa to start working
Well, some moringa effects come quickly. For instance, digestion issues, insomnia, or energy deficiency, can be easily solved. It is explained by "fixing" nutrient-deficient problems. Speaking about long-term benefits, you'll need at least one month to spot any progress.
How to use moringa powder for weight loss
Research made on rats shown that moringa extract can effectively reduce and control weight gain. Its high vitamin B content assists the smooth and efficient digestion and helps the body convert food into energy instead of storing it as fat. But there is still no scientific evidence that moringa has the same effect on the human organism.
Risks and side effects you should know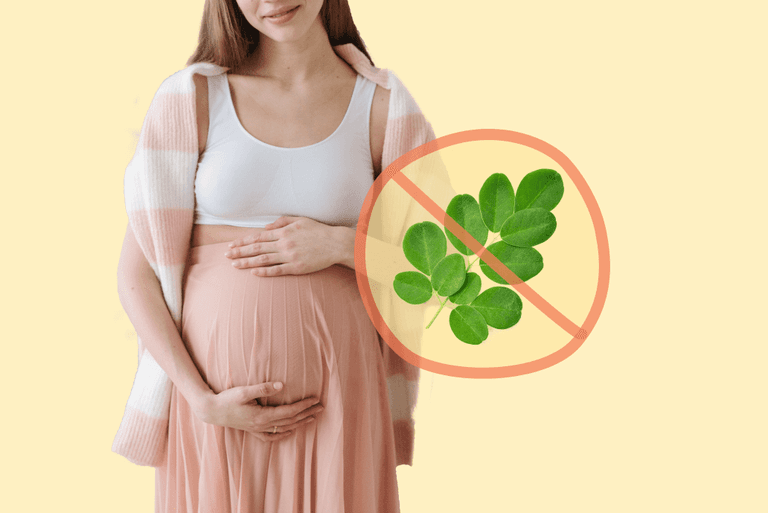 Moringa may possess anti-fertility qualities and is therefore not recommended for pregnant women.
All things considered
Moringa oleifera is an Indian tree that humans have used in traditional medicine for many years. However, few of its numerous health benefits have been studied scientifically. We can confidently state that Moringa oleifera may lead to cholesterol reductions and modest blood sugar. It may also have anti-inflammatory and antioxidant effects. Moringa leaves, seeds, oil, and powder are highly nutritious and should be beneficial for people lacking essential nutrients.