Healthful Foods For Good And Glowing Skin
You should avoid harmful factors and eat well to look good and wholesome. Some products are designed by nature to make your skin healthy and young. What are they? This article will discuss beneficial tips for healthy and beautiful skin and give you a list of superfoods to make it glow.
What affect to your skin condition
Before we go to the core, let's analyze the outer aspects that worsen our skin condition.
Eat tasty food and lose weight with Unimeal app!
Take a Quiz – Get personal meal plan – Achieve your weight goals!
Start Quiz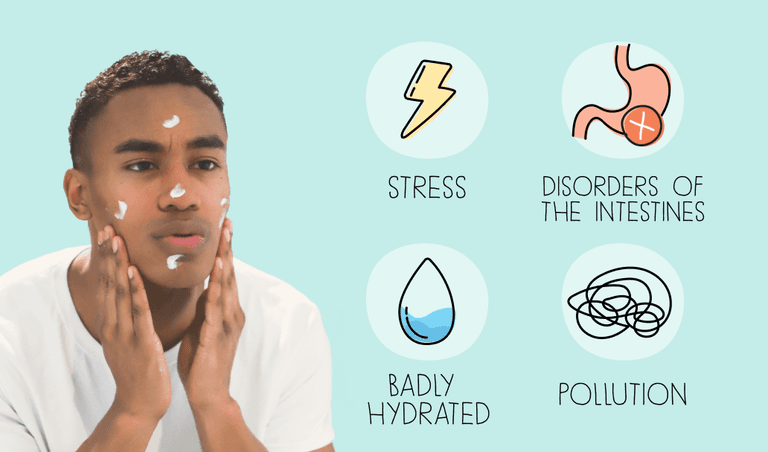 What nutrients are beneficial for your skin
Your skin needs the proper balance of nutrients to do its primary job: protecting the rest of your body from things outside it. So, remember to help keep your skin looking, working, and feeling good. Feed it well from the inside.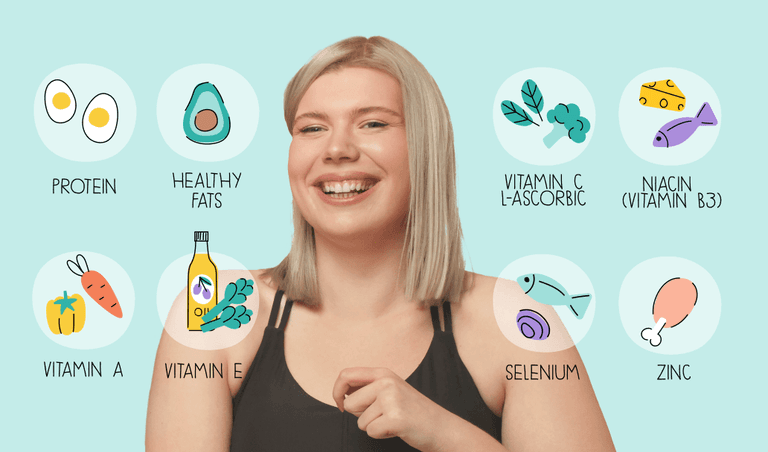 Protein
is involved in cell growth and repair function. Your body transforms the proteins you get from food into building blocks called amino acids. They help to slough off old skin. Some amino acids are antioxidants. Their task is to protect skin cells against UV rays and "free radicals" when your body breaks down unhealthy foods6Rebecca Widmer, Isabella Ziaja, Tilman Grune. (2006, December). Protein oxidation and degradation during aging: role in skin aging and neurodegeneration. Free Radic Res. DOI:10.1080/10715760600911154.
Foods with protein: eggs, almonds, chicken breast, dairy, lean beef, salmon, quinoa, peanuts, turkey breast; protein shakes that are good not only for skin but also for Gaining Weight And Building Muscles.
Healthy fats
in your diet prevent skin from dryness and wrinkles and make it "glow." Omega-3 fatty acids belong to healthy fats. It is a polyunsaturated fat that your body can't make but needs to build cell walls. Eating healthy fats help your skin stay moist, firm, and flexible7Bryce J Thomsen, Eunice Y Chow, Mariusz J Sapijaszko. (2020, May 28). The Potential Uses of Omega-3 Fatty Acids in Dermatology: A Review. J Cutan Med Surg. DOI:10.1177/1203475420929925.
Foods to eat: fish/seafood, walnuts, flaxseed and avocados.
Vitamin A/Beta-Carotene
influences synthesizing epithelial tissue enzymes that prevent skin cell death. It also accelerates skin regeneration in wounds, burns, and other injuries8Fritzlaine C Roche, Tamia A Harris-Tryon. (2021, January 21). Illuminating the Role of Vitamin A in Skin Innate Immunity and the Skin Microbiome: A Narrative Review. Nutrients. DOI:10.3390/nu13020302.
Foods to eat: dark green leafy vegetables like kale, spinach, broccoli, carrots, sweet potatoes, squash. bell pepper, mango and cantaloupe, eggs and beef liver.
Vitamin C/L-ascorbic acid
provides an antioxidant effect, helps fight free radicals, slows down premature skin aging, and can repair damaged cell DNA. It also regulates pH and strengthens local immunity. Vitamin C prolongs youth, stimulating the production of collagen, which is responsible for the elastic and beautiful skin and the absence of wrinkles9Juliet M Pullar, Anitra C Carr, Margreet C M Vissers. (2017, August 12). The Roles of Vitamin C in Skin Health. Nutrients. DOI:10.3390/nu9080866.
Include food to your diet: lemon, orange, kiwi, grapefruit, bell/chili peppers, strawberries, tomatoes, broccoli, cabbage, parsley, spinach and black current.
Vitamin E
stimulates cell renewal, has a lifting effect, and prevents skin aging. It traps free radicals, preventing them from spreading. Also, the vitamin is famous for its anti-inflammatory properties, retaining moisture in the epidermis, normalizing sebum production, and promoting collagen production10F Nachbar, H C Korting. (1995, January). The role of vitamin E in normal and damaged skin. J Mol Med (Berl). DOI:10.1007/BF00203614.
Food to eat: wheat germ oil, sunflower seeds, nuts, greens, pumpkin, peppers, asparagus, mango, avocado.
Selenium
belongs to one of the vital trace elements that can only be obtained by following a proper diet. It is an antioxidant that allows you to control the number of free radicals, reduces their volume if necessary, and protects cells from damage11R C McKenzie. (2000, November). Selenium, ultraviolet radiation and the skin. Clin Exp Dermatol. DOI:10.1046/j.1365-2230.2000.00725.x.
Food to eat: brazil nuts, yellowfin tuna, halibut, sardines, chicken, eggs.
Zinc
is involved in processing fatty acids and stimulates skin cell repair. It makes skin clearer, promotes regeneration, and slows down the formation of free radicals that cause aging. Zinc also prevents the formation of pimples and acne. If you have oily skin and the face begins to glow after a while after cleansing, zinc will help eliminate skin impurities that lead to the formation of comedones12Piyush Kumar, et al. (2012, March 15). Zinc and skin: a brief summary. Dermatol Online J. PMID:22483512.
Food with zinc: oysters, beef, crab, lobster, pork chop, baked beans, fortified cereals, pumpkin seeds, cashews.
Niacin/vitamin B3
improves skin health, eliminating acne, making it clearer, and reducing the appearance of infection. It also helps shorten the other skin problems such as skin damage and redness, allowing the skin to breathe13Donald L Bissett, John E Oblong, Cynthia A Berge. (2005, July). Niacinamide: A B vitamin that improves aging facial skin appearance. Dermatol Surg. DOI:10.1111/j.1524-4725.2005.31732.
Foods that include zinc: chicken/turkey breast, salmon, tuna, pork, beef, brown rice, peanuts, fortified breakfast cereals, rice, seeds.
More skin care tips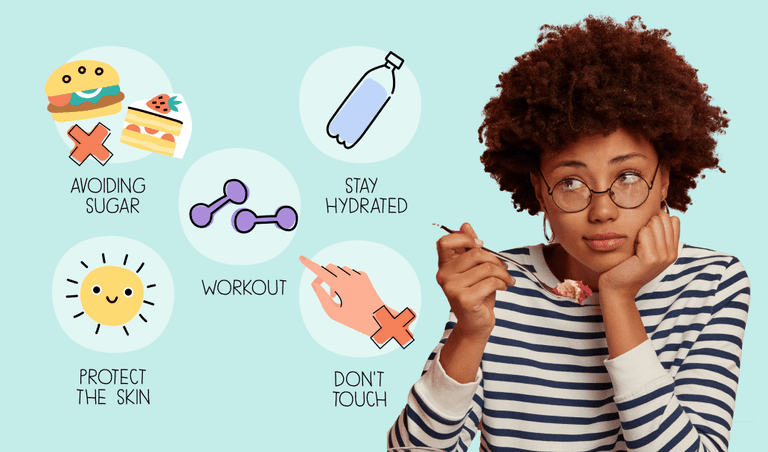 Let's summarize all of the above
Your lifestyle and food choices can significantly impact your skin health and beauty. Try to get as many necessary nutrients to protect your skin as possible. The foods and tips above are great options to keep your skin glowing, strong, and attractive.